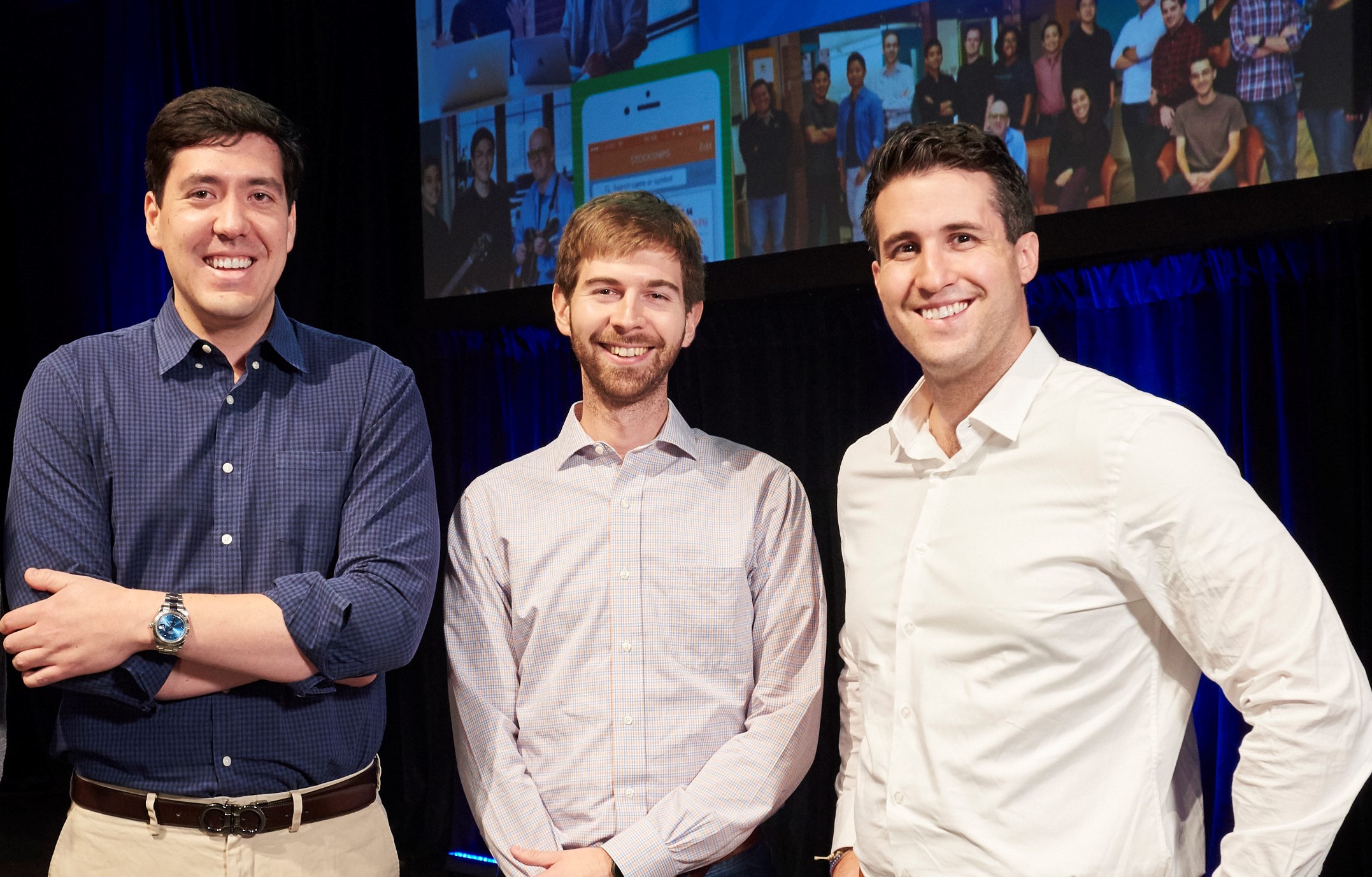 Co-founders: Ken Martin (left), George Cook – CEO (middle), Christian Bilger – COO (right)
After the LIFToff Financial Impact Challenge, Honeycomb Credit received an investment from Comcast NBCUniversal LIFT Labs to further its mission of helping small businesses get loans from customers, family, and friends.
Samantha Story-Camp needed soap for her son's sensitive skin. Unsatisfied with what was available in the market, she began making her own. Soon, her business, Pip and Lola's, became the go-to place for lightly scented, natural soaps in the Pittsburgh area. 
Story-Camp dreamed of opening in Pittsburgh's popular Strip District as the business grew. But rent, signage, and moving costs loomed large. Rather than seeking a bank loan to cover the expenses, Pip and Lola's received approximately $100,000 in loans from customers, friends, and others through Honeycomb Credit. The influx helped her open the shop and drive more sales.
"There are no words to express exactly how grateful we are that Honeycomb Credit exists," said Story-Camp. 
Pip and Lola's is just one example of how Honeycomb Credit, a startup launched in 2017, helps locally owned businesses crowdfund from customers and community members. Over 100 businesses have run investment crowdfunding campaigns on the platform, and approximately 85% have successfully reached minimum funding goals.
Here's how it works: Businesses create a fundraising campaign and determine a goal between $15,000 and $500,000. Lenders can be customers, local community members, family, friends, or someone who found the campaign on social media. Loan terms are typically three to five years with 6 to 12% interest rates.
Aside from the money, businesses seeking loans through Honeycomb Credit get a marketing bump too. Investors become evangelists of the business, making purchases, telling friends, and posting about it — and it's driving real revenue. According to Honeycomb Credit Co-Founder and CEO George Cook, companies that run Honeycomb Credit campaigns see a 60% year-over-year increase in revenue.
"You can feel really good about where you are putting your money, earn a nice return, and at the same time help your local community," said Cook.
LIFToff Financial Challenge
Honeycomb Credit entered the LIFToff Financial Impact Challenge by Comcast NBCUniversal LIFT Labs, which sought to invest in early- to mid-stage FinTech startups enabling capital and credit opportunities for underrepresented communities. 
The challenge was a perfect fit for Honeycomb Credit. About half of the loans on the Honeycomb Credit platform have gone to businesses in low-to-moderate-income communities; half have gone to women-owned companies, and a quarter to organizations owned by people of color, owners from underrepresented communities. 
"We wanted to serve communities often overlooked by traditional lenders," said Cook. "Receiving an investment from Comcast through the LIFToff challenge was a huge milestone for the team. Everyone is really excited. It demonstrates to the world the social impact we can have by getting fair funding to small businesses."
A Human Touch to Lending
For 130 years, Cook's family ran a small bank in his hometown of Somerset, Pennsylvania. After working in the family business and at larger financial institutions, he noticed that digitization and loan qualification algorithms were removing the human touch from banking. 
Co-founder Ken Martin owned a coffee shop, worked as an investment banker, and dealt with getting a bank loan. He and Cook wondered if customers could invest in local businesses in tech-enabled, scalable ways. Soon, Honeycomb Credit was born.
"The push to digitize banking was really hurting a lot of small businesses and leaving them behind," said Cook. "I realized that we need to use technology to be inclusive and to create tech tools that help businesses get the capital they need to thrive rather than locking them out."
Small businesses in need of capital can seek traditional bank loans, but that requires showing operating history, revenue history, and meeting other criteria. It's not easy for businesses that struggled in the past or are just starting. Yet customers, friends, and neighbors evaluate businesses using a different set of standards.
"There is a qualitative aspect to small businesses that is really important to understand their performance and risk. Does the coffee shop make a decent cup of coffee, treat customers well, and have fair pricing?" said Cook. "Obviously, it's important to look at the overall financial health of the business, but fundamentally we're trying to balance that out and bring this very human touch back into the fold in lending."
Honeycomb Credit plans to use the investment from the LIFToff challenge to invest in technology and roll out a fund-matching program for charitable foundations to match community lending dollar for dollar.
"If a small business raises $20,000 on our platform, we can line up another $20,000 from a foundation, so they hit their funding goals faster," said Cook. "The investment from Comcast is going to help make that a reality and allow us to continue transforming small business capital."


To read more inspiring startup stories and to stay connected to Comcast NBCUniversal LIFT Labs, sign up for our newsletter and follow us on Twitter.