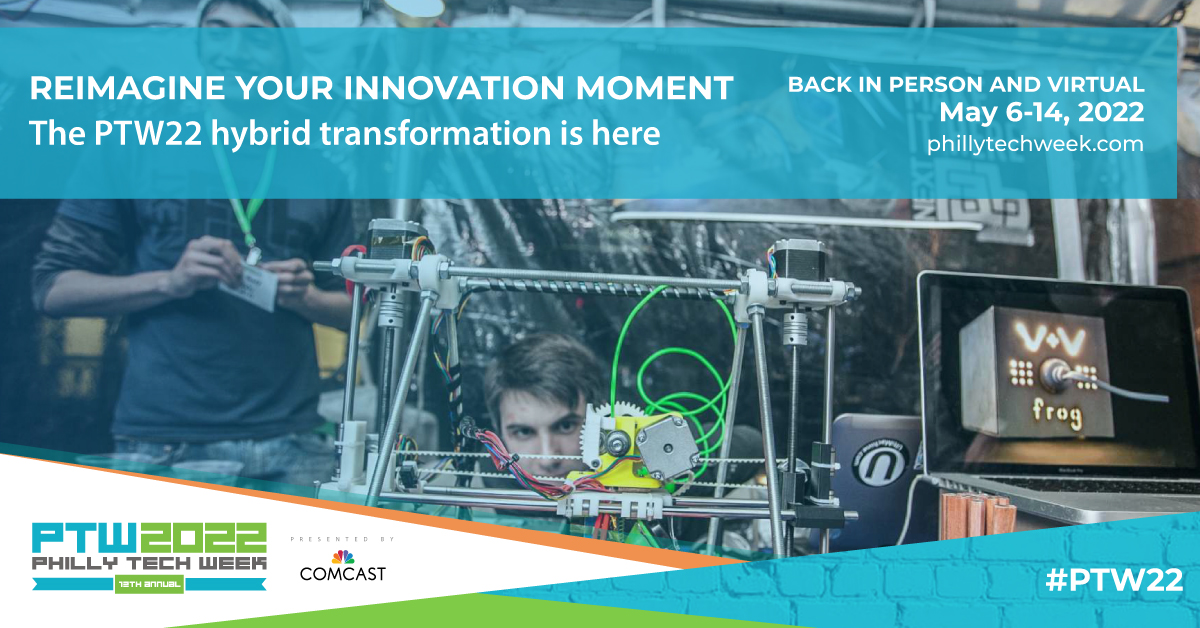 No matter where you are during Philly Tech Week 2022, chances are Comcast NBCUniversal will be there too! Come say hi, it would be great to meet you!
Philly Tech Week is an annual celebration of tech and innovation. With a jam-packed schedule of meetups, speaker sessions, and virtual events, it's a time for entrepreneurs and innovators to collaborate and learn. 
Now in its 12th year, Philly Tech Week is led by Technical.ly, a news organization that serves a community of tech professionals in Philadelphia, Pittsburgh, Washington, D.C., Baltimore, and Delaware.
#PTW22 is right in our hometown of Philadelphia, with events running from May 6 to 14. Join us for events in-person and virtually taking place throughout the week. Check out the full schedule here or read below for some opportunities to connect with Comcast NBCUniversal LIFT Labs, our partners, Accelerator Alumni, and more! Here are some highlights.
Tuesday, May 10 – Technical.ly Developers Conference
4:00 p.m. – 7:30 p.m.
Perpay 2400 Market Street #Suite 300 | Philadelphia, PA 19103 
The Technical.ly Developers Conference has for years been a "tasting menu" of new, established, and inventive deployments of software development, strategy, and management. Come to learn, catch up with friends and meet with a new slate of fast-growing software teams. This conference will offer video content and in-person conversations around three topics:
What's Next: Problem solving in an experimental environment using cutting edge tools
Growth Stage: Problem solving with technology that is being tested, deployed, or scaled
At Scale: Problem solving with technology accessible by millions of people
Pre-recorded technical talks and short-form culture shoutouts will be included with registration and released before the conference takes place. This year's in-person program will feature small-group "huddles" focused on the most popular pre-recorded talks and important trends in software development. Then we'll finish the day with happy hour and networking.
Tuesday, May 10 – Allow Me to Reintroduce My Startup
5 p.m. – 8 p.m.
Kimpton Hotel Palomar Philadelphia, 117 S 17th St | Philadelphia, PA 19103
Mix & Mingle with diverse tech startups reintroducing themselves to the Philly community during Philly Tech Week. Converge with other business professionals, and meet the startup teams and their leaders while enjoying light bites and beverages in this ideal setting to eat, drink, and connect. Featuring LIFT Labs Accelerator alum: Employee Cycle, WorkChew, and Nicklpass.
Wednesday, May 11 – Temple University's Digital Equity Day
10:30 a.m. – 1:00 p.m.
Digital Equity Center; OWLHUB 19915 North 11th Street Philadelphia, PA 19122
As part of Technial.ly Philly's Philly Tech Week, Temple University is hosting a special Digital Equity Day on Wednesday, May 11. The event coincides with Temple's unveiling of its new Digital Equity Center. Funded in part by Dell Technologies, the new center will help provide North Philadelphia residents with access to technology, help desk support and provide education in digital navigation and digital literacy through our strategic community partners.
Speakers from Temple University, the City of Philadelphia, Comcast NBCUniversal, and Dell Technologies will discuss the importance of digital equity and the key role it plays in society. Digital equity is imperative for communities, and it's a bridge that can lead to civic and cultural participation, employment, and lifelong learning. More than 100 community members are expected to attend the event.
Wednesday, May 11 – Entrepreneur Expo
4:00 p.m. – 8 p.m.
23rd Street Armory; 22 South 23rd Street Philadelphia, PA 19103
If you're interested in the region's thriving tech community, in exploring new ideas and new technology, or are simply curious about the creative spirit taking place in the region, this is the event for you!
Discover the innovative energy flowing through Philadelphia and meet the companies behind some of the greatest tech our city has to offer! The Entrepreneur Expo is a donation-based event, with each donation supporting the work that PSL does, and enabling us to offer free or low-cost education and programming to entrepreneurs throughout the year.
And be sure to stop by the LIFT Labs and Comcast Business booths! 
Thursday, May 12 – Introduced: by Technical.ly
1:00 p.m. – 5 p.m.
The Post at Cira Green 129 South 30th Street Philadelphia, PA 19104
Introduced is Technical.ly's annual company-building conference. We introduce you to the ideas, people, and opportunities that build better companies.
Thursday, May 12 – Signature Event
4:30 p.m. – 8 p.m.
Cira Green; Cira Green; 129 S 30th St. Philadelphia, 19104
Wanna play video games on a screen the width of a building? Want to see maker displays and interactive displays, with good food and good drinks?
From the inaugural Philly Tech Week, the closing party has always been Technical.ly's Signature Event, an interactive networking reception with food, drink, and locally-built technology. It will be held at the breathtaking Cira Green rooftop park with skyline views.


To stay connected to Comcast NBCUniversal LIFT Labs, sign up for our newsletter and follow us on Twitter.