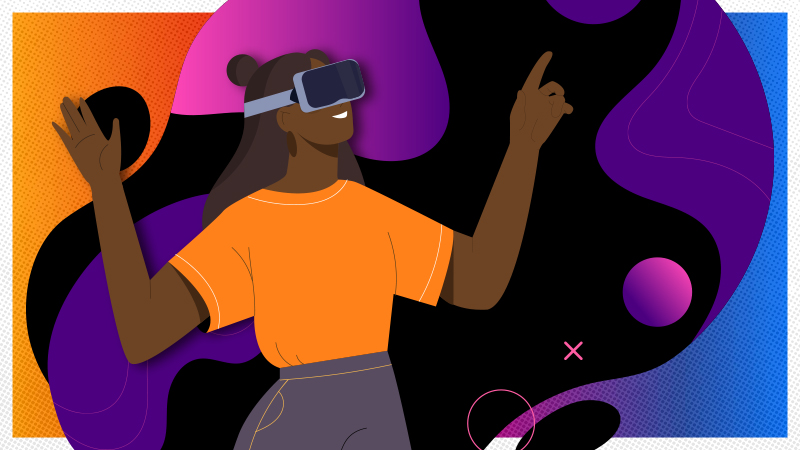 A panel of metaverse experts cited brand partnerships, virtual fashion, and experiences as significant trends for the evolving marketplace.
Imagine waking up in the morning, strapping on a virtual reality headset, and starting to exercise. Then, you remove the headset for a shower and some breakfast — and put it back on for a series of work meetings. Later, you have lunch in the real world and attend a virtual concert in the afternoon.
It's a scenario that's very possible in five to 10 years, according to futurists.
That's because of the metaverse — loosely defined as a world or collection of worlds accessed by virtual reality headsets. Experts believe people could eventually toggle between real and virtual worlds daily as they live, work, and collaborate.
The emerging technology could provide incredible opportunities for startups hoping to gain a foothold in the metaverse during its early days.
Comcast NBCUniversal LIFT Labs hosted a discussion with experts building the metaverse to offer their perspective on where startups might fit into the mix.
According to the experts and futurists we spoke with, here are five opportunities for startups in the metaverse:
1. Brand Partnerships
Startups that can execute an authentic brand marketing strategy in the metaverse will be at the forefront of this trend. This is an area for growth, as to-date, few companies have been able to achieve this.
"There are a very small handful of brands that have nailed the fine line between being innovative and meaningful that will resonate and just doing something for PR and marketing," said CEO of Sixth Wall Lindsay McInerny. Sixth Wall is the digital arm of Mila Kunis' Orchard Farm Productions.
To be successful, brands should focus on showing up in meaningful and genuine ways. If that's sponsoring concerts or fashion shows, the same can be done in the metaverse. McInerny discussed a metaverse brand partnership she led with Stella Artois. Since they sponsor premium sporting events in the real world, they sponsored an exclusive horse racing game in the metaverse.
"It felt like a place consumers would expect us to be. It wasn't a huge leap from what we normally do. It felt completely authentic," she said.
2. Virtual Fashion
Gen Z gamers are spending more on virtual fashion artifacts than real-life clothes, according to Sylvia Gallusser, futurist and Founder of Silicon Humanism. That leaves opportunities for startups to build a virtual fashion market.
"They care more about their virtual appearance than their physical appearance," said Gallusser. "That shows why we should take the metaverse seriously."
3. Small Venue Experiences
People in the metaverse need somewhere to go, and small venue experiences like musical performances or get-togethers could fill that void.
"Create the equivalent of 9:30 p.m. at the club or the jazz bar," said Latoya Peterson, Co-founder of GlowUp Games, a game studio centering on innovative, diverse storytelling.
4. Tokenomics
Some metaverses will be layered on top of the real world. Take Superworld, for example. It allows people to add digital experiences or content to real-life places — such as a piece of content or an event sign up. Getting people to interact with those overlayed digital enhancements will take some incentivizing, and tokenomics could be the solution.
"We believe users need to earn crypto for the things they are passionate about. We call it live to earn. Utilize tokenomics to incentivize real-world behavior," said Hrish Lotlikar, Co-Founder and CEO of SuperWorld. "How can I use crypto to incentivize people to sign up for something we are activating or to interact with a piece of content?"
5. Metaverse Real Estate
Companies have built replicas of stores or headquarters in the metaverse, but that probably won't draw people's interest, according to Janine Yorio, CEO of Everyrealm, a metaverse, and NFT innovation and investment platform.
Metaverse real estate is "3D immersive environments that need to have a video game component to make people not just visit once, but come back over and over again, and engage with whatever you are trying to proselytize," she said.
Learn more about the metaverse
Interested in learning what the metaverse might look like in the future? Curious about more practical ways people will engage with it? We invite you to read our accompanying story explaining how virtual worlds may impact how we communicate, work, and experience entertainment. Don't miss it!
Into the Metaverse: How Virtual Worlds May Impact How We Communicate, Work, and Experience Entertainment


To read more inspiring startup stories and to stay connected to Comcast NBCUniversal LIFT Labs, sign up for our newsletter and follow us on Twitter.