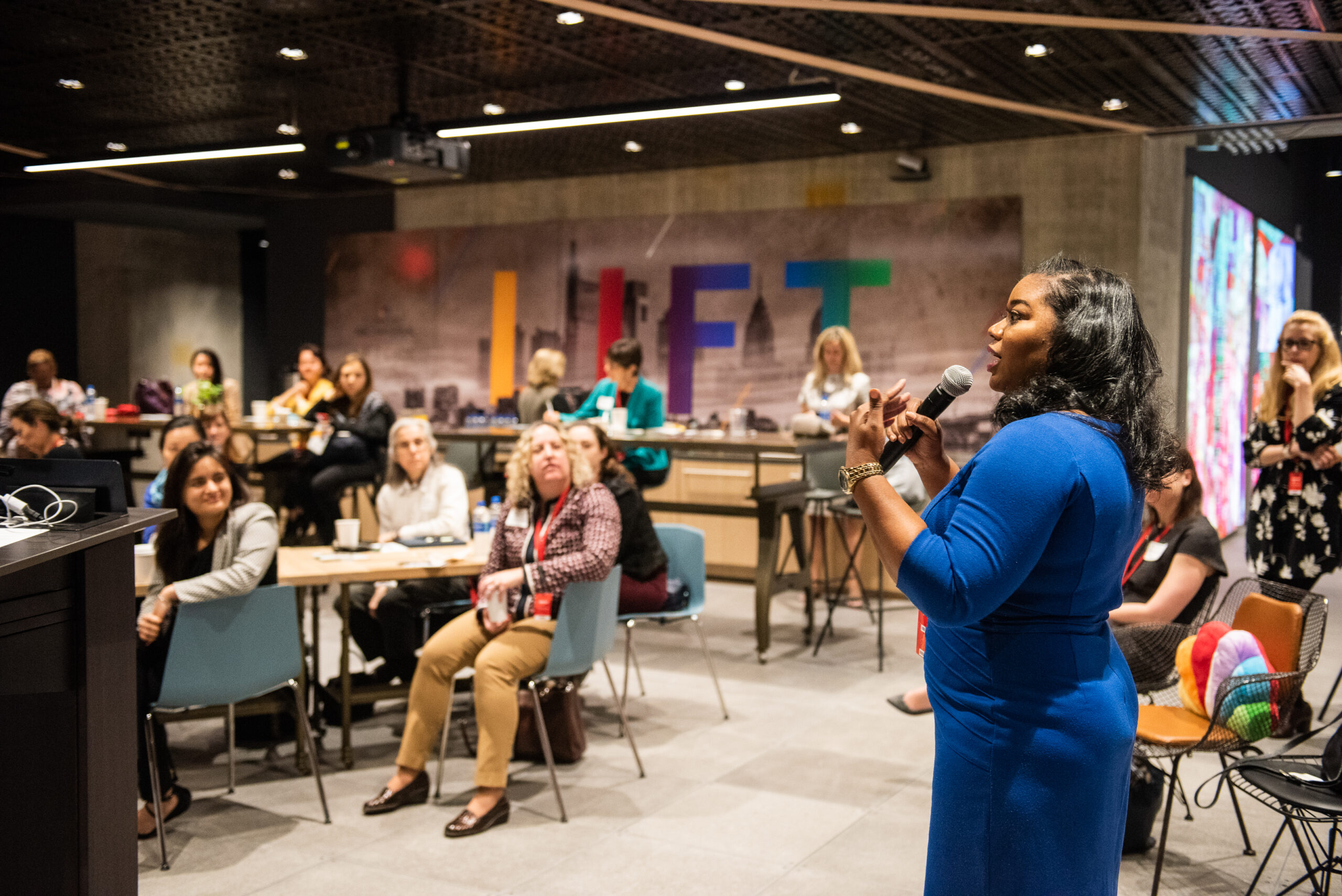 Looking back at our mission to connect women entrepreneurs and investors in a safe, collaborative space through our Female Founders and Funders event series — and where it's headed in the future.
Ellen Weber loves collaborating with women entrepreneurs. 
As a startup investor and executive director of Robin Hood Ventures, her schedule fills up fast. But when female entrepreneurs come calling, she typically takes the meeting. That's because women founders and funders are greatly outnumbered. In fact, all-female startup teams receive just 2.2% of all venture funding dollars and only 15% of general partners at venture capital firms are women. 
Supporting one another is a must.
Whether it's a cup of coffee, a video chat, or an informal walk-and-talk, Weber's meetings with female founders are typically free-flowing, candid conversations. They help entrepreneurs learn what it's like to pitch investors and present their ideas.
In 2019, Weber wanted to scale up those meetings. She wondered if she could create a group of female founders and funders that met on an ongoing basis. She brought the idea to Danielle Cohn, Vice President, Startup Engagement and Head of LIFT Labs.
"I loved the idea right away," said Cohn. "The LIFT Labs team is passionate about helping female founders elevate their ideas, amplify their startups, and make connections with potential investors. We knew Ellen was on to something big."
The idea turned into a monthly series called Female Founders and Funders. Held on the fourth Friday of every month, each meetup had a theme, speakers, and provided time for funders and founders to network.
Attendee Opeola Bukola said the all-women events led to a "different comradery" than other startup events where women are typically outnumbered by men.
"In a lot of spaces, especially in the startup world and venture worlds, women don't take up a lot of space and are often discouraged from taking up a lot of space. This safe space full of women encourages us to practice using our voices more and leads to us helping one another," said Bukola, founder of Lillo Consulting.
Since the program launched in 2019, Female Founders and Funders has hosted hundreds of founders, investors, and members of the startup community. Attendees traveled from New York and other cities to attend in-person events at the Comcast Technology Center in Philadelphia. In the midst of the pandemic, the program moved online so the group could continue connecting as they navigated unprecedented changes to the business landscape.
The series offered some incredible speakers and dynamic conversations:
The speakers have been top-notch. The conversations and vibe have been truly unique. 
"There are a ton of networking groups for female entrepreneurs but this is a safe environment where they could ask funders anything," said Weber. "It is empowering to look around the room and see all these women entrepreneurs, all the funders, and know that they want to support each other."
There is one important ground rule: No pitching. That means everyone is trying to learn from one another and share ideas — rather than judging pitches. 
"With all women in the room and no pitching, everybody's guard goes down. The questions are more free-flowing. The advice is more free-flowing," said Weber. "The conversation is different than with a mixed group. You are not worried about someone judging you or making snap decisions." 
Another attendee, Due Quach, said the events provide valuable peer mentorship and the ability to openly discuss the gender dynamics in the startup and venture capital worlds.
"It was really nice to hear what other female founders are going through and realize that I'm not alone," said Quach, founder and CEO of Calm Clarity. "We are all struggling with similar challenges and we can provide emotional support to one another."
The future is bright. Upcoming Female Founders and Funders events will be developed in partnership with the Gotham Film & Media Institute, which is dedicated to expanding awareness for topics significant to underrepresented voices. In the upcoming events, expect expert-led workshops in funding, branding, marketing, and networking — and access to a larger network for women entrepreneurs and investors.
"I am very grateful to Comcast LIFT Labs and Danielle for enabling this project," said Weber, "recognizing the role they could play as a convener, and bringing funders and founders together in a safe environment."


To read more inspiring startup stories and to stay connected to Comcast NBCUniversal LIFT Labs, sign up for our newsletter and follow us on Twitter.