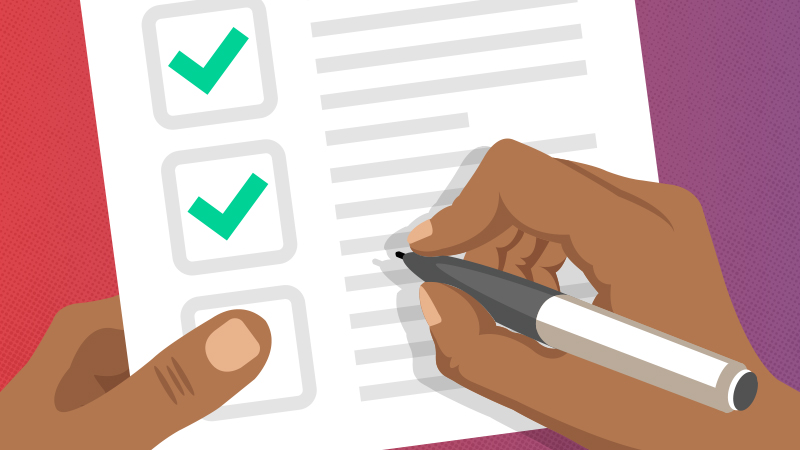 Sherrell Dorsey, founder of The Plug and author of the new book Upper Hand, explains the importance of learning from non-traditional entrepreneurs, building your personal brand, and tackling racial bias head-on.
As a teenager, Sherrell Dorsey learned how to code in a converted storefront in Seattle's inner city. She received mentorship from talented Black software engineers and eventually landed a summer internship at Microsoft while still in high school.
Her family was always shuttling her from one program or another to advance her education. Most kids aren't so lucky, especially if they are from underrepresented communities. Families simply don't know how to access opportunities available in technology and adjacent industries, says Dorsey. As a result, diversity in tech stalls.
This paradigm led Dorsey to write Upper Hand, a playbook to help everyday people navigate the many programs, research, statistics, and opportunities available in tech. She sees it as a way to help communities that have been historically left behind.
Dorsey is also the founder and CEO of The Plug, a Black tech news and insights platform covering innovation, venture capital, and future of work policy. She previously co-founded BLKTECH Interactive in 2016, a hub that supported more than 2,000 entrepreneurs and technologists of color in Charlotte, N.C. The company was acquired in January 2021 by City Startup Labs. Dorsey has been named one of CNET's Most Inspiring Women and Adweek's Top 100 Creative Business Leaders.
In a recent LIVE@LIFT discussion with Danielle McAdams, Director of Strategic Partnerships, Impact & Inclusion at Comcast, Dorsey explained how people can jumpstart their technology careers and take advantage of powerful resources in their regions. Here are some takeaways:
1. Learn from non-tech entrepreneurs
Dorsey once worked at a nail salon for a woman affectionately called Auntie Monica. Dorsey described her as a CEO, operations manager, maintenance person, and more. Auntie Monica remembered customers' birthdays, children's graduations, and rarely lost clients to the competition. That's just good business.
"It is a superpower to provide great service and leave people feeling cared for and nurtured. Auntie Monica had some of the same clients for the last 30 years — incredible lessons for any business interested in lifetime value and customer retention," said Dorsey. "When you treat folks well and care about your operations, it shows."
2. Build your personal brand
Dorsey graduated college during the late 2000s recession. She began the Organic Beauty Vixen blog, eventually generating 20,000 monthly visitors and helping her land a job with a fashion brand. Her advice? Don't wait for permission to build your personal brand. Showcase your talents on social media and your own website without asking anyone for permission.
"It is a branded world. Have a website. Get your LinkedIn up-to-date. Have a friend do a photoshoot with you against a white background. How we show up in the world is how we are received," she said. "Are you showing the prowess of your work? Are you submitting projects to GitHub? Employers or venture capitalists want to know you can do the work but also that you are a strong team player, have a great attitude, and a can-do spirit."
3. Expand your horizons
Many tech programs are attached to schools or community groups. If you or a young member of your family is interested in robotics or coding, but it's not available at your local school, look elsewhere. There is probably a free or low-cost program nearby. Don't be intimated to look outside your inner circle.
"You may see a lot of people who don't look like you, but that doesn't mean you can't go and take up space," said Dorsey.
4. Be the solution to bias in tech
Blacks and Latinos make up just 15% of tech workers. This lack of representation and perspective can lead to bias in tech solutions. One example is facial recognition technology, which has misidentified innocent people as criminals. Such inequity in the field is a major opportunity for underrepresented communities to help create more equitable solutions.
"All technology in its nascent stages is extremely imperfect and everything is built based on the bias of the developer and coder," said Dorsey. "If the majority of the coders and developers are white men who see the world the same way, we are not going to get a perfect and holistic technology."
5. Find venture capitalists you can relate to
Venture capital can benefit from more inclusion – only 2% of VCs are Black men, 1% are Black women, 1% are Latino men, and even less are Latina, according to a recent study. Dorsey says there are plenty of groups and resources that can help you connect with venture capitalists of color. Look at business schools focused on creating more diversity. Find HBCU groups focused on startup investments or Black and Latinx-led venture capital funds. In fact, Dorsey keeps an updated database of Black-owned venture capital firms on her site, The Plug.
To note, founders of color face barriers beyond their control in accessing VCs and advancing in tech, but what Sherrell has outlined are just a few tips to help in their journey.
"There are so many incredible movements led by passionate people in this space who are trying to democratize access to these resources," she said. "Do some digging and you'll find them."


To read more inspiring startup stories and to stay connected to Comcast NBCUniversal LIFT Labs, sign up for our newsletter and follow us on Twitter.