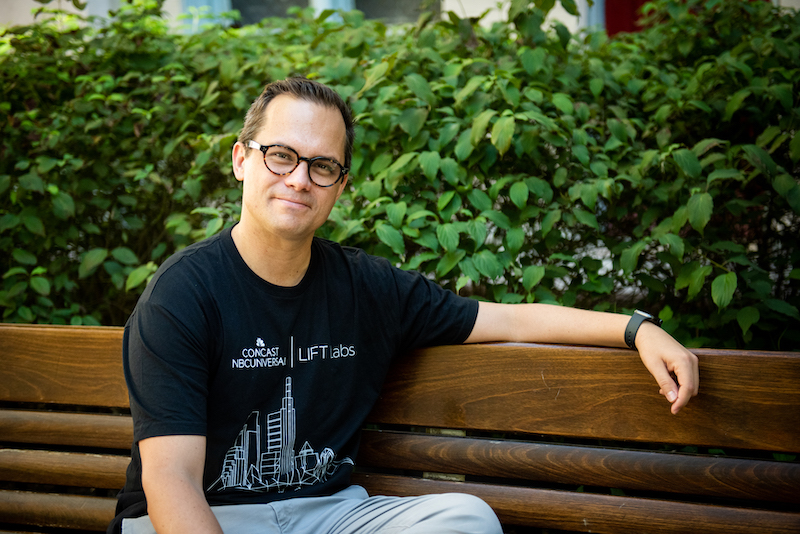 Jose Puga – Co-founder & CEO
This member of the 2022 class of Comcast NBCUniversal LIFT Labs Accelerator, powered by Techstars empowers the ever-growing ecosystem of video content creators by dramatically reducing the time it takes to edit video.
On the surface, Jose Puga was living a glamorous life. Puga, a journalist in his native Peru, covered film, music, and pop culture. He even interviewed stars like Julianne Moore and Javier Bardem. 
But behind the scenes, Puga spent the majority of his day slogging through transcriptions of his interviews on a seemingly never-ending quest to find the perfect quotes and soundbites. Later in his career, he was astonished to see talented video editors spending hours rewatching content to find the best moments. He thought time is precious, and the inefficiency is ripe for disruption. 
"These highly capable, fantastic video editors would just sit there for hours with a cup of coffee looking at content and taking notes," he recalled. "For me, it was just astonishing that the process was so manual. Why would you spend your time and resources that way?"
It led Puga and cofounder Abdelhak Loukkal to launch Imaginario.ai, which uses machine learning to identify impactful moments inside videos. Imaginario.ai simplifies the editing, resizing, and publishing processes — cutting previously manual processes to mere seconds. Imaginario.ai also makes it easy to add stylized subtitles and create the best snippets for social media.
Video is more important than ever — not just for entertainment companies but for brand marketing and independent content creators. Internet users consume up to 16 hours of digital video per week, and 86% of businesses use video as a marketing tool. If content is king, video is the path to the throne.
Puga and Loukkal interviewed more than 200 content creators and early adopters of Imaginario.ai and estimate that video editors spend 20% to 50% of their time rewatching footage to find the best moments for their final cut. That lost productivity could be put to better use.
"Creators, agencies, and film studios are sitting on mountains of content," said Puga. "We launched Imaginario.ai so they can have more time to create imaginative content and less time on repetitive tasks in post-production."
Puga and Loukkal are hoping to take Imaginario.ai to the next level by joining the Comcast NBCUniversal LIFT Labs Accelerator, powered by Techstars. Loukkal has been particularly impressed with the high-level connections. In just the first few weeks, they connected with executives from Google, Apple, Time Magazine, Comcast, and other organizations.  
"We gave the LIFT Labs and Techstars teams a list of ideas and skill sets we wanted to see in our mentors. They came back with a tailor-made list of mentors that fill those needs," he said. "It was absolutely amazing to have access to such brilliant people and have it customized specifically for us."
Puga added that the hands-on nature of the program has been ideal. 
"They help with very practical parts of launching a business like using LinkedIn's search engine and how to write emails to investors and potential clients," said Puga. "They are not theorizing about what entrepreneurship should be. They are providing a toolbox to implement right away."
Empowering Creators, One Video at a Time
Imaginario.ai is built for a wide variety of potential users, including large media companies creating TV shows and films, or agencies working with third-party content. The other use case is individual content creators, a group that earned $1.3 billion in 2021.
"They could be knowledge sellers like course creators, coaching professionals. They could be podcasters who sell their content. It could be livestreamers like gamers," said Puga. "There are many creators monetizing their knowledge and skills online by producing more and more video content. We're here to help them succeed."
Puga and Loukkal agreed to be cofounders without ever meeting each other in person. Such is life during a global pandemic. 
"We are both relentless. That was something I was looking for in a co-founder. I need someone who is like a pitbull — who bites and never lets go," said Loukkal.
Puga took to Loukkal because he's willing to go the extra mile to get things done. For example, in just a few months Loukkal not only learned new programming languages but also built the front and back ends of the prototype.
"I was astonished. I said to myself 'he is a builder, he is a researcher, and he is hugely passionate,' " said Puga. "It was like all the stars aligned."
The partnership is blossoming, as Imaginario.ai has worked with Warner Brothers Discovery, Formula Done, Pronet Interactive, and agreed on commercial terms with other media companies. The company now has its sights set on raising venture capital, securing more commercial agreements, gaining more validated use cases, and hiring more team members. 
Over the next five years, the company hopes to become the go-to service for video production.
"We see our company as an AI-powered Canva. We want to accelerate post production and go into production as well. We want to help anybody create high-quality content while saving money in the production process," said Puga. "We don't want to replace storytellers, we want to help them tell the best stories possible."


To read more inspiring startup stories and to stay connected to Comcast NBCUniversal LIFT Labs, sign up for our newsletter and follow us on Twitter.