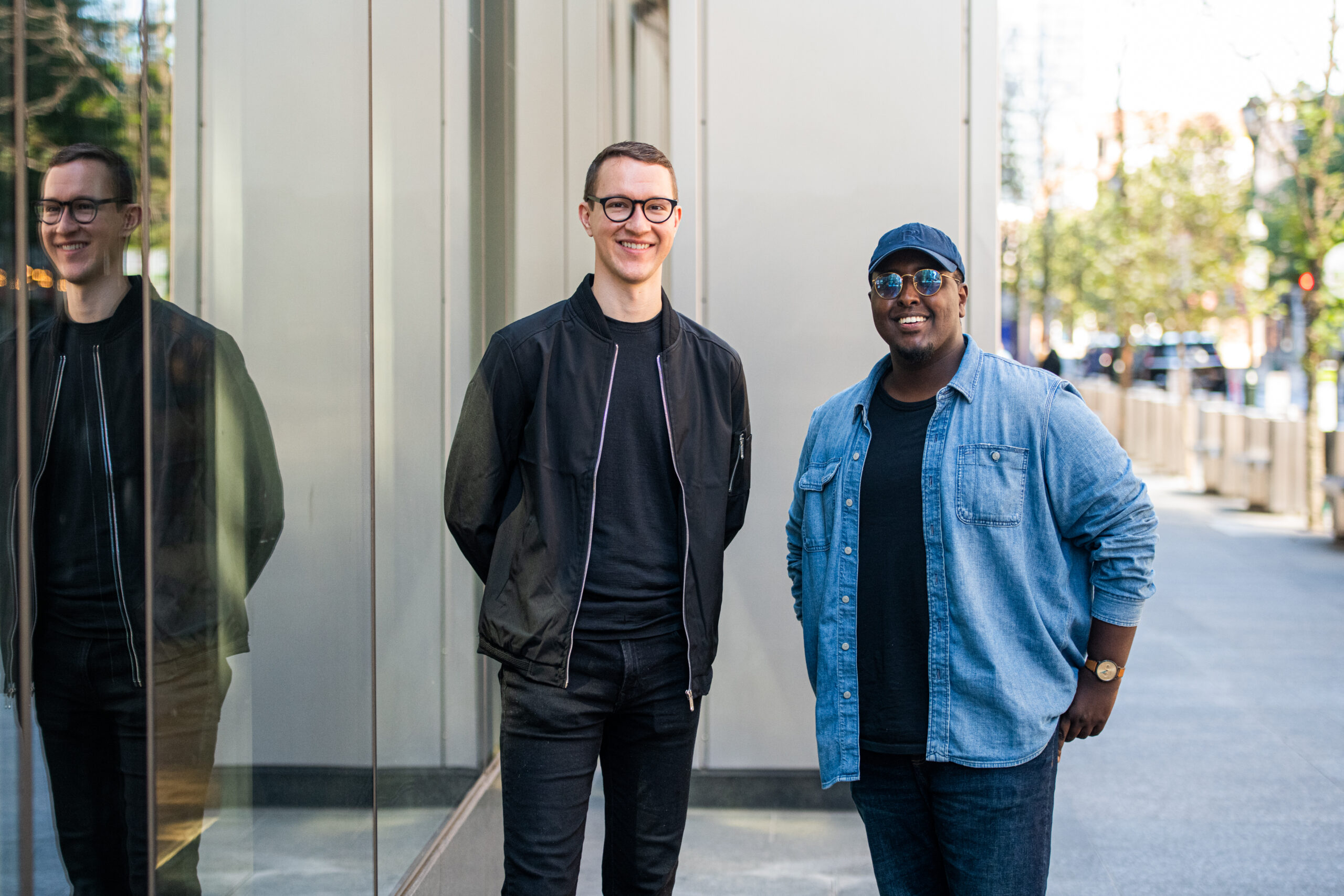 The decentralized ticketing platform unlocks long-term loyalty and resale revenue for live event hosts. The founders joined the Comcast NBCUniversal LIFT Labs Accelerator, powered by Techstars to connect with some of the biggest names in music, sports, and arenas.
Ahmed Nimale has been watching live music since he was a kid. His father, a refugee from Somalia, saw music and pop culture as an avenue for acclimating to life in Edmonton, Canada. 
"It was a way to bridge himself into the Western world and a new country," Nimale recalled. "And, live music also helped me not feel so different from everyone else."
By age 15, Nimale would go to music halls and ask to be the unofficial photographer and videographer for events. In his university days, he did graphic design for bands. In his professional life, Nimale became a talented product manager and worked with some of the biggest names in live music, including Vivid Seats and Live Nation.
Throughout these experiences, Nimale noticed a troubling trend in the music industry: When tickets were being sold through online resellers, artists and venues were usually cut out of the deal. This caused them to not only lose profits but also have no information on who purchased tickets — and no ability to remarket to them. 
It led Nimale and cofounder David Barrick to launch KYD Labs, a blockchain-enabled event ticketing platform that unlocks long-term loyalty and resale revenue for live event hosts. With KYD Labs, artists and venues sell direct-to-consumer — a strategy that's worked for countless industries from fashion to eyeglasses.
"If artists or venues file for bankruptcy but their tickets are being resold on marketplaces for big profits, there is a huge gap," said Nimale. "When there is a resell, not only should the artist get a piece of the profits, they should also know who is getting the ticket next so they can connect with them and reward them."
KYD Labs is built using Web3 technology, meaning data is decentralized and traceable — so it can benefit venues.
"We believe that if Web3 is not adopted in the next 10 years, small and midsize venues will be a thing of the past," said Nimale. "Margins are razor thin for them and they need the ability to remarket and use basic marketing tools to reach their audiences. That's not afforded to them if their tickets are being resold without feedback from ticketing providers."
Founders Come Together
From the ideation phase, Nimale was courting Barrick to join him as a cofounder at KYD Labs. Previously, Barrick was the first hire and founding engineer at Buildspace, an educational organization for Web3 engineering with a community of 100,000 developers. His ability to teach engineers Web3 made him perfect for KYD Labs. 

"His contributions to Buildspace literally educated a new generation of engineers," said Nimale. "There are few people in the world that can build what we are trying to build, while also teaching others how to do it."
Barrick said he joined KYD Labs because of the chemistry he built with Nimale in just a short time. 
"I love to solve problems. I am willing to tackle challenges and spaces in technology that others think are too complex," he said. "Ahmed and I worked together for a week and hit it off. From then on, we were cofounders bringing this business to life."
KYD Labs initially kicked off with launch parties in Seoul, Los Angeles, and New York. "We are building a culture here. We were floored at how many people showed up at our kickoff parties to support us. It shows that we must be on to something here," said Nimale.
Now Barrick and Nimale are hoping to take KYD Labs to the next level during the 2022 class of the Comcast NBCUniversal LIFT Labs Accelerator, powered by Techstars. They have gained access to executives in arenas, advertising, sports, movie theaters, and live events. Learning the pain points of industry leaders has been a major differentiator.
"Thanks to these valuable connections, we are not only an emerging technology but also a team with the knowledge base and resources to act on it," said Nimale.
KYD Labs has ambitious growth plans. By mid-2023, the company hopes to be working with 150 venues, have a roster of artists exclusively using KYD Labs, and drive $5-$6 million in total values of tickets sold. They are starting with small to midsize venues in New York, Los Angeles, and Atlanta.
As time goes on, they hope to be the underlying ticketing and loyalty platform that connects venues, artists, and brands with fans.
"We want to define the next hundred years of loyalty by creating opportunities for people to have moments that define us as humans," said Nimale. "We are doing that by making ticketing and growth more accessible, giving artists more of a financial cut, and ultimately creating avenues that allow more creatives to get into the industry. We're excited to see what happens next."


To read more inspiring startup stories and to stay connected to Comcast NBCUniversal LIFT Labs, sign up for our newsletter and follow us on Twitter.