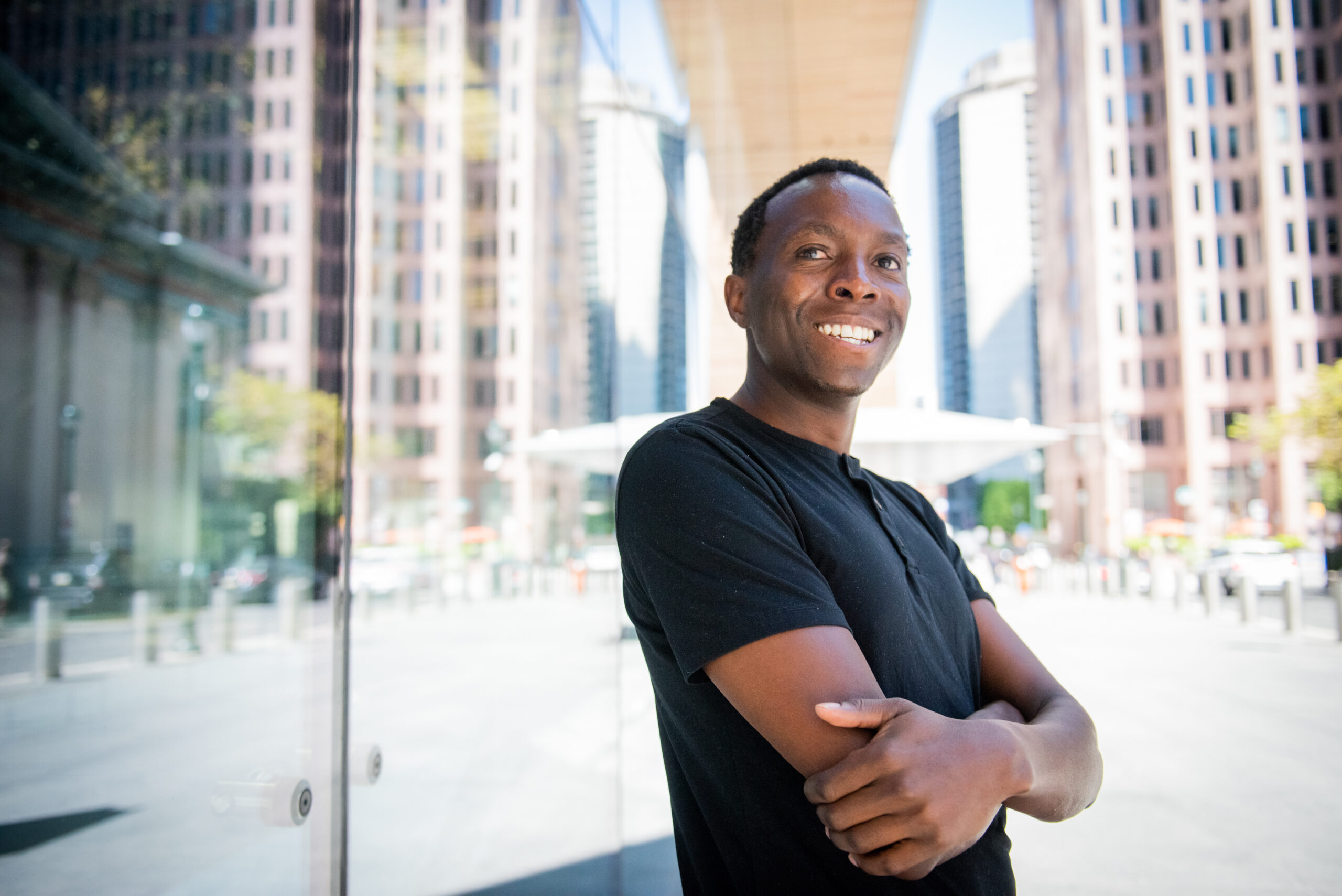 Peter Njenga's vector database solves a major pain point for AI engineers. He hopes that joining the 2022 class of the Comcast NBCUniversal LIFT Labs Accelerator, powered by Techstars will help his startup expand its client base and get valuable feedback from developers.
Peter Njenga is mesmerized by the power of artificial intelligence (AI). After emigrating to the United States from Kenya after high school, he studied computer science at the University of California, Berkeley, and Columbia University. Once he began learning about AI, he knew it was time for a career pivot.
"Instead of thinking about how to make computer chips better, I started thinking about how to make the best use of this incredible technology," he said.
When he dove in, Njenga found the process of AI development inefficient and tedious. Databases presented the biggest problems. They don't hold data in vector formats critical to AI — instead relying on traditional values like text, images, videos, and booleans. 
"It leaves software engineers spending valuable time building the layer that bridges applications to databases so the outputs can be stored formally," said Njenga. "Why can't we just store the data in a database that understands it?"
It led him to launch NNext, a startup developing a vector search database that understands machine learning outputs natively. With NNext, engineers don't waste time converting data from one format to another.
"By having an efficient format and data storage container that natively understands this, you speed up the development process," he said.
One Technology to Elevate Many Industries
The applications for NNext span a wide variety of industries. Doctors can use it to find medical research quickly. It can help e-commerce companies power a recommendation engine and IT security firms detect suspicious activity. Finance companies can use it to assist in fraud protection and detection, and NNext can even optimize reverse image and video searches.
"If vector storage becomes the norm, it unlocks secondary effects that can potentially revolutionize industries from healthcare to finance to e-commerce to data security," said Njenga. "Many times, a single tool changes the way people work — and that is what we are hoping NNext will do," he said.
NNext is available as a Software-as-a-Service that developers can download and use immediately. The startup also offers an enterprise model for complex migrations or deployments.
Njenga hopes to get his tech in the hands of more AI developers by participating in the 2022 class of the Comcast NBCUniversal LIFT Labs Accelerator, powered by Techstars.  
"There are a lot of potential divisions in the company who can use NNext. And they have all been receptive and helpful in our early meetings," he said. "Comcast isn't just guiding us through this program and calling it a day. They are actually trying to help our startup succeed long-term. It's very refreshing from such a large player."
When Njenga arrived in the United States from Kenya, he was forced to take a gap year before college. He spent that time volunteering at a food bank affiliated with his church. Once college began, he found himself shuttling to three different community colleges to build up his grades. 
The hard work paid off. Njenga went on to intern at Intel and work at Facebook. He also launched the startup Behold.ai with a classmate. What started as a side project turned into a fast-growing company that helped radiologists scan images for abnormalities. Eventually, Behold.ai was acquired, and Njenga stayed with the company until 2019.
Nienga said he chooses entrepreneurship because it provides the creative freedom he prefers to solve complex problems.
In the near future, NNext hopes to increase its roster of enterprise clients while cultivating a community of AI developers providing valuable product feedback. As time goes on, he sees NNext as a necessary tool for every AI developer.
"We want to be the default database for machine learning that engineers think to use when working on a project," he said. "That's the mindshare we are striving for."


To read more inspiring startup stories and to stay connected to Comcast NBCUniversal LIFT Labs, sign up for our newsletter and follow us on Twitter.