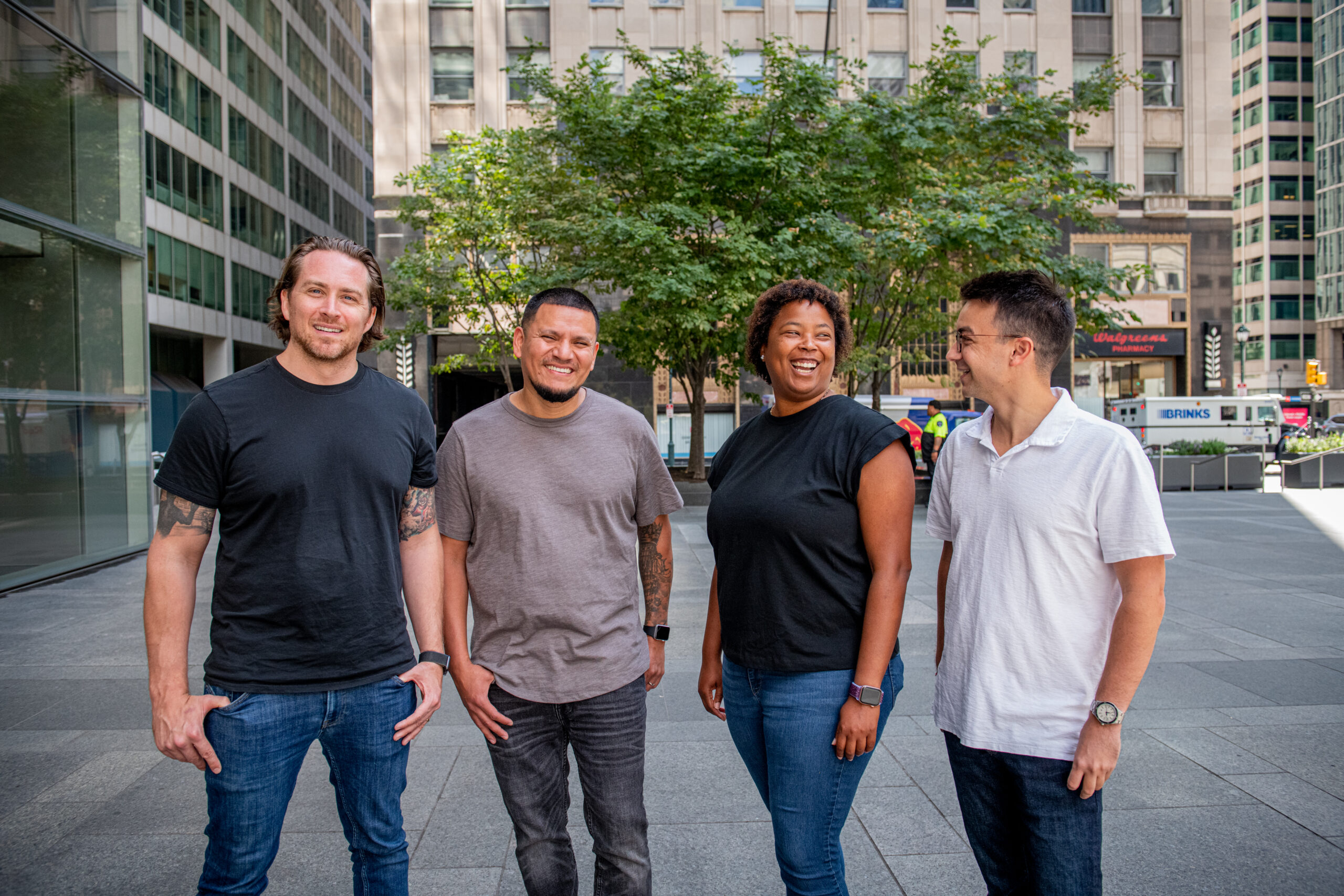 A member of the 2022 class of the Comcast NBCUniversal LIFT Labs Accelerator, powered by Techstars, Neon Wild brings diversity and representation to children's entertainment by making kids the main characters of stories and games.
As director of brand experience at a growing tech startup, Matt Weckel spent long workdays away from his family. Too often, he left while his two young sons were asleep and returned after they had gone to bed.
Then came COVID-19. 
Suddenly, Weckel was with his kids around the clock. He relished the time with the boys – and noticed they were hooked to their tablet computers. Yet the games they played seemed more like time wasters than value adds. That's when he had an idea.
"Instead of fighting this idea that kids spend too much time in virtual worlds, let's lean into it, embrace it, and create a space where we can feel good about what our children love," said Weckel.
He discussed the issue with coworkers Matthew Kellough and Carlos Ramos and longtime collaborator Stephanie Reaves. They sketched out plans for an alternative built on self-confidence, diversity, inclusion, and relationship skills. 
The result is Neon Wild, an immersive, personalized virtual platform where children are turned into avatars and can play customizable stories and games. Kids or parents can upload an image and the character creation software that then instantly turns them into a Neon Wild character like a superhero or princess. It features books, games, and an open-world multiplayer adventure. Think of it as a kid-friendly, digital playground where children hang out with friends. 
"These are personalized stories. They are the heroes of their adventures," said Weckel. 
In early trials, kids seem to love it.
"We've interviewed families and watched children react to seeing themselves as a superhero in our game," said Ramos. "They go absolutely wild."
To further the company's development, the team joined the 2022 class of the Comcast NBCUniversal LIFT Labs Accelerator, powered by Techstars. So far, the connections and know-how have proven valuable.
"Getting in the door at Comcast NBCUniversal and being able to learn from incredible executives from TV, children's entertainment, technology, and other fields provides years of advancement in just weeks," said Weckel. "People are taking their time to meet with us, coach us, and open doors for us. There is no other way to do that from the outside without being in this program."
Diversity and Representation 
Representation in children's entertainment is lagging. According to Kid Screen, White characters represent 74% of leading characters in children's television shows despite being 62% of the U.S. population. Meanwhile, 78% of parents want their children to be exposed to media that teaches them about cultures, religions, and lifestyles different from their own.
It's a big disconnect Neon Wild is solving. By inserting a digital avatar of a child into a story or game, they are automatically represented no matter their race, ethnicity, or ability. Kids play as themselves.
Reaves joined the founding team of Neon Wild partly to promote representation for communities underrepresented in traditional children's entertainment. She remembers being a kid and seeing predominantly white characters on TV, in toys, and in movies.
"Growing up, my mom would go to the toy store a few months before Christmas and put my name on the list for one of a handful of Black dolls that would come in for that season," she recalled. "With our digital platform, anybody can see themselves represented, and that's special."
Tight Security and Ambitious Goals
Technical security is critical for Neon Wild. The images used to create player avatars are automatically destroyed, and all user information is asymmetrically encrypted so it can't be accessed by Neon Wild or anyone else. 
"Parents have full control. They don't have to submit a photo at all. They can manually design their avatars if they want," said Kellough. "They can also decide who is allowed in these virtual worlds with their children — much like they would decide whose house their kids can visit."
The Neon Wild team has ambitious goals. They plan to explore developing partnerships with third-party intellectual property holders to develop content using popular characters from TV shows and movies, and tap into the creator economy to help publish children's stories in the Neon Wild world.
"We've been calling it the Roblox for stories because we are creating a platform where content creators and developers can build this world with us," said Weckel. "Ultimately, we are not building a platform or a company. We are building a beloved family brand where parents can feel good about what their kids are doing in our virtual worlds."


To read more inspiring startup stories and to stay connected to Comcast NBCUniversal LIFT Labs, sign up for our newsletter and follow us on Twitter.