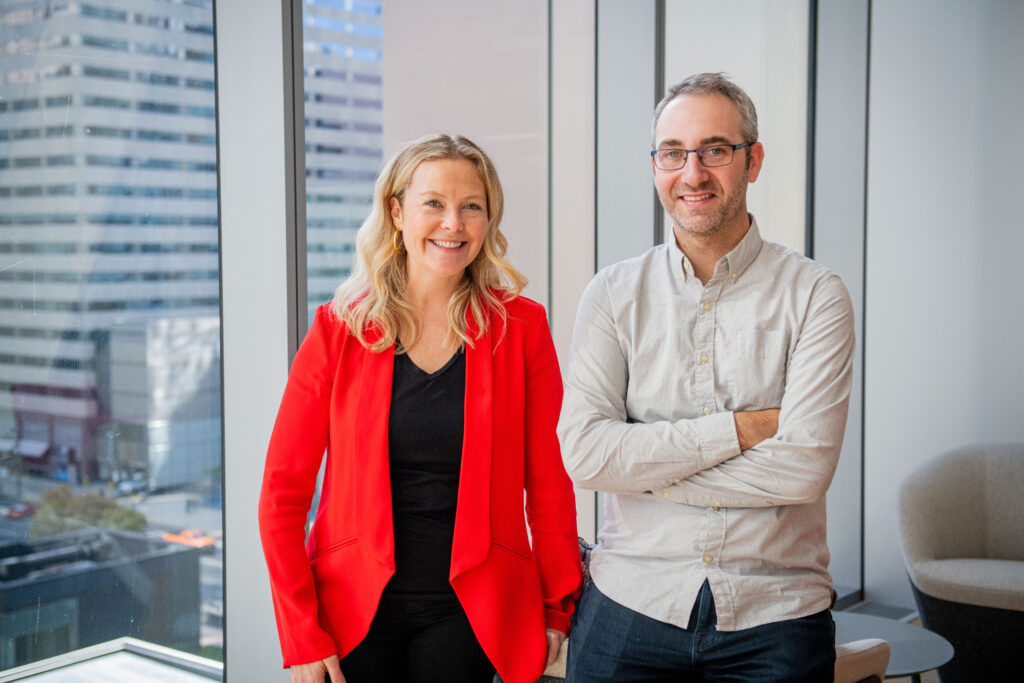 The startup in the Comcast NBCUniversal LIFT Labs Accelerator, powered by Techstars, has the key to employee retention in an era of unprecedented job hopping.
Since the age of 10, Jess Podgajny has loved to work. It all started at her father's medical and radiological supply business. She did any job she could find, from stuffing envelopes to taping boxes in the warehouse.
That passion continued into her professional career, where she had leadership roles in management consulting and human resources. However, she noticed many employees struggling with motivation and lacking a sense of belonging. That's problematic because workplace belonging leads to a 56% increase in job performance and a 50% reduction in turnover risk. 
It led Podgajny and Aaron Kamholtz to launch LLUNA, the team operating system for hybrid and remote organizations. LLUNA combines employee profiles with team dashboards to give managers and workers real-time insights into the skills, strengths, working styles, and growth ambitions of their teams. 
Employees create a profile by answering questions about work/life balance, skills, favorite work tasks, communication styles, frustrations, and ways they would like to grow. The LLUNA profiles are added to a team dashboard where managers and employees can visualize data about the whole team. LLUNA recommends insights on communication styles, the most efficient work schedules, and ways to work effectively with one another.
"Typically, when employees fill out the survey, they don't feel ownership and don't know if it will lead to any real change," said Kamholtz. "Through our team boards, employees and managers can see changes as people change their profiles. It makes them evergreen and always current."
Remote work in the wake of the pandemic accelerated the need for LLUNA. With distributed workforces, people run into each other in the halls or casually get lunch together less frequently. LLUNA can help foster those much-needed connections. 
"We are essentially a digital layer between the office and people to help teams better understand who they are working with and work more effectively together," said Podgajny. "We believe this tech has been the missing piece to the new ways we work."
LLUNA also solves the problem of silos and underutilized talent. It can even help companies retain employees in an era of unprecedented job hopping leading to expensive knowledge gaps, retraining, and lost productivity. In fact, lack of belonging at work is a big reason people switch jobs — and it costs the U.S. economy $406 billion per year. 
Hometown Team
LLUNA is hoping to take the startup to the next level by joining the 2022 class of the Comcast NBCUniversal LIFT Labs Accelerator, powered by Techstars. After just a few weeks, LLUNA has already secured pilot programs with multiple teams across the Comcast NBCUniversal organization. The feedback from those groups is invaluable as LLUNA continues to iterate.
"I love Comcast's approach to startup engagement," said Kamholtz. "As a startup founder, you always wonder if your idea is good enough. The LIFT Labs team gets it. Whatever stage you are in, they give you this big hug and help you get further along."
LLUNA is also based in Philadelphia, where Comcast and LIFT Labs are headquartered. Podgajny is proud to lead the hometown team and says it's a testament to the city's incredible startup ecosystem.
"Philly is very underappreciated on many levels," said Podgajny. "We have a rich startup community. There are so many great companies built and launched here. We are grateful and excited to represent Philly and help the startup scene get its due credit." 
After participating in the LIFT Labs accelerator, LLUNA is eyeing a significant expansion in users and plans a substantial fundraising round. As time goes on, they hope to become a ubiquitous technology in human resources and a natural part of people's day-to-day work lives.
"It's about connection, being understood, communicating the values you add to the organization, and how you belong as part of the team," said Podgajny. "Ultimately, it will help make teams work more productively together, which makes work more enjoyable for everyone."


To read more inspiring startup stories and to stay connected to Comcast NBCUniversal LIFT Labs, sign up for our newsletter and follow us on Twitter.