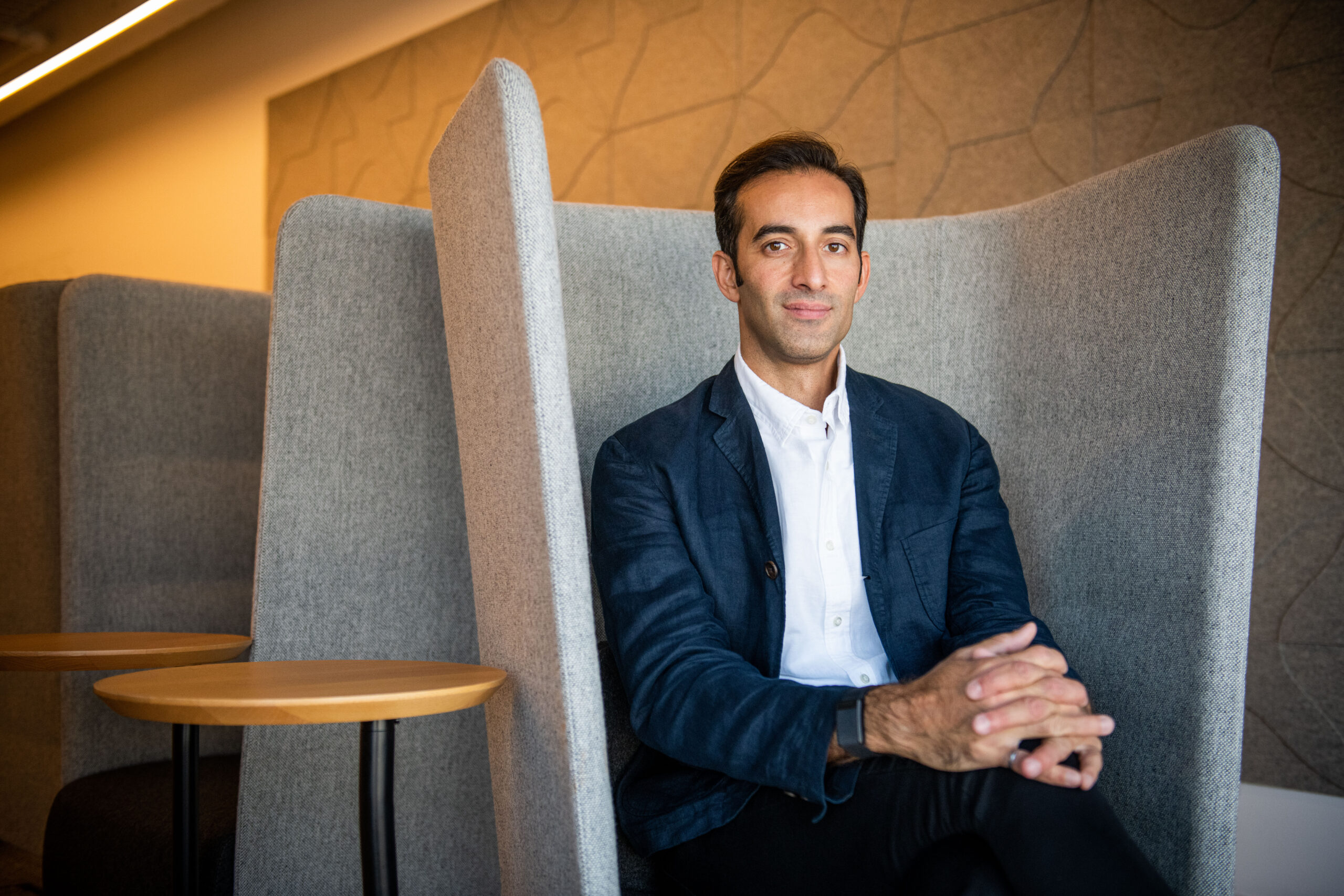 Founder Payman Samadi (above) joined the 2022 Comcast NBCUniversal LIFT Labs Accelerator to connect with the world's largest network operators and refine the startup's value proposition for potential clients.
Gone are the days when we used cell phones simply to call or text. Now we stream movies, upload videos, play complex multiplayer games, and more. In fact, global mobile data traffic amounted to 77.5 exabytes per month worldwide, up from 11.5 in 2017. That means sometimes wireless networks alone could have trouble keeping up with the increasing flow of data.
After researching the problem at Columbia University, Payman Samadi launched eino, an artificial intelligence (AI) powered network resource planning and optimization tool. The technology analyzes data about how people have historically used wireless networks and uses proprietary algorithms to forecast the network's future load, predict network quality, and optimize the buildout of 4G upgrades and 5G rollouts. This helps network operators accurately predict, plan, and manage capacity. And, Samadi says, it increases return on capital investments like equipment, maintenance, and overhead by 35%. 
"Looking forward three to five years from now, we could have people using AI and virtual reality (VR) glasses, drones delivering packages, or Internet of Things devices controlling traffic lights. All of these new connections require different types of requirements from networks and they'll be expected to keep up flawlessly," said Samadi.
The startup currently works with several wireless network operators as well as companies with their own private enterprise networks. In an effort to grow the company, Samadi joined the 2022 Comcast NBCUniversal LIFT Labs Accelerator, powered by Techstars. The 12-week program gave Samadi the opportunity to work side-by-side with mentors at Comcast Business and gain a deeper understanding of how to work with large enterprises.
"It helped me discover that the best approach is finding teams within large organizations to champion our idea and take a chance on a startup solving a problem in a new way," he said.
A Natural Entrepreneur
At Samadi's home in New York, visitors are greeted with plants like succulents, jasmine, lily, and sweet lemon trees. He is intentional about growing each plant from a seed or leaf — and some have been flourishing for more than 10 years. He sees entrepreneurship as a similar endeavor. Cultivating a business takes patience, hard work, and continual effort. 
"I really enjoy making something out of nothing," he said. "Maybe that's why I'm an entrepreneur. I feel a real sense of accomplishment when I create things that grow."
Samadi planted the seed for eino while studying applied research. He learned how to use data from network operators and train AI models to predict future usage and network efficiency. He took his new knowledge to as many network operators as possible, learning that wireless was far more unpredictable than broadband, and that network operators would welcome new ways to solve their bandwidth issues.
"I came up with some ideas for how we could optimize the backbone of the internet. I became obsessed with how to dynamically allocate resources on the optical layer to make networks more efficient," he said.
Samadi's passion for the project comes from his belief that connectivity is incredibly important to the world. 
"I really care about efficiency. I do not like waste. I think there are enough resources in the world for everyone, but we need to be smart about how we use them," he said. "I personally believe it is very important to provide connectivity to everyone."
In the near term, Samadi wants eino to secure more proof of concepts with network operators and continue to prove its value. In the next five years, he sees eino as an essential technology for every network operator.
"Our vision is to be the platform that provides automation so operators can automatically predict, plan, and manage network capacity so every customer automatically gets the quality they expect regardless of how they use the network."


To read more inspiring startup stories and to stay connected to Comcast NBCUniversal LIFT Labs, sign up for our newsletter and follow us on Twitter.