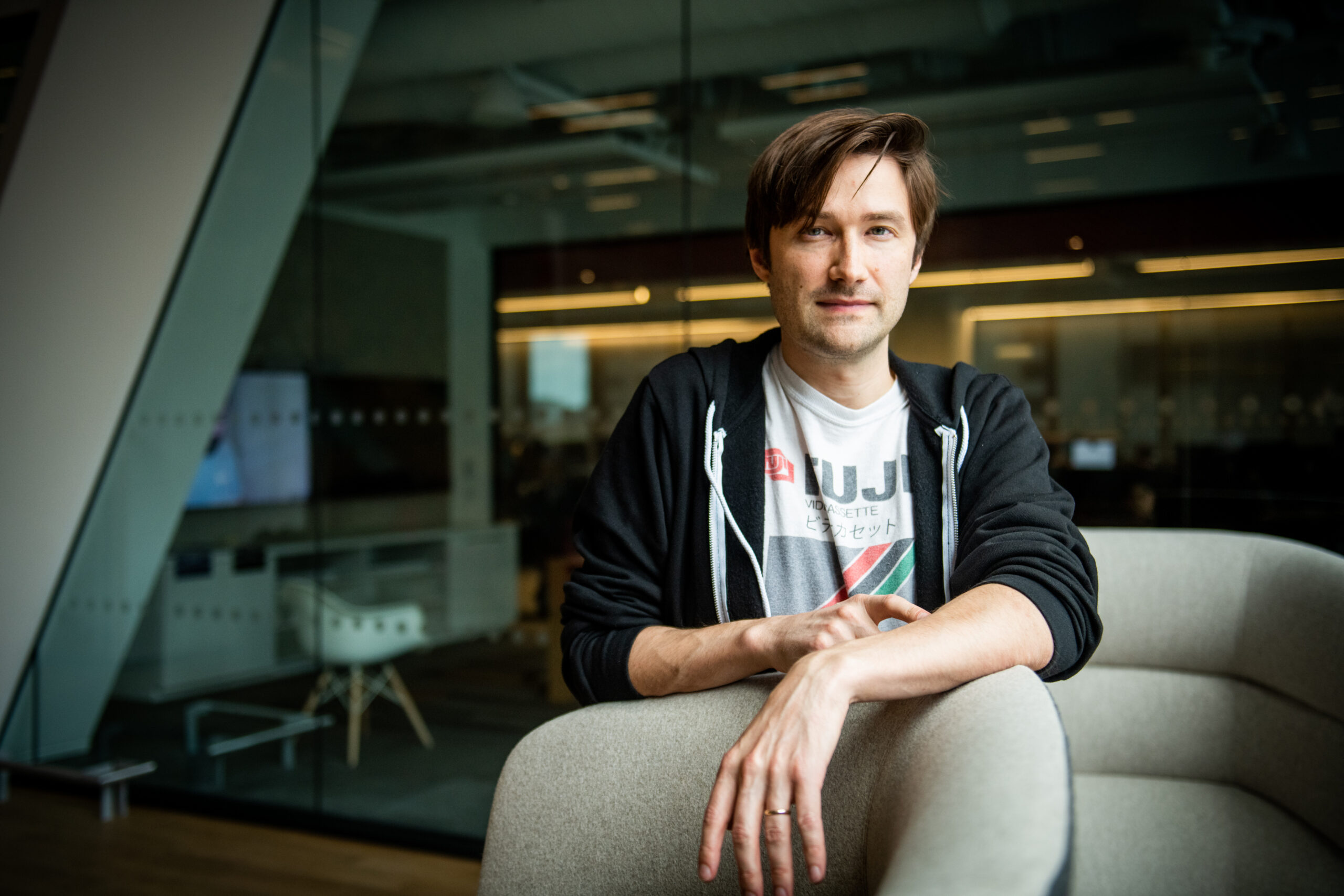 Participating in the 2022 class of the Comcast NBCUniversal LIFT Labs Accelerator, powered by Techstars, helped Jeremy Hartmann bring his vision for the next generation of live streaming for gamers to life. 
While live streaming has gained popularity and turned gamers into celebrities, viewers still see a 2D screen depicting the video game and the streamer's face in the corner. Jeremy Hartmann (above), an avid gamer, says streams sometimes are impersonal, static, and flat — and there's opportunities for more immersive interaction people crave.
That's why he launched mtion interactive, a startup offering broadcasting tools and virtual spaces where streamers can interact with fans. With mtion interactive, streamers increase their virtual real estate from simple bio pages to a backstage experience. The spaces may look like a living room or bedroom, and the streamer can decorate with virtual objects unique to their personal brand — and add branded content from sponsors. Inside, fans can watch the live stream, interact with one another, or connect with the streamer directly.
The benefits are immediate. Fans get a more interactive experience and better connections with their favorite streamers. Gaming streamers get more fan engagement and new monetization opportunities.
"Our mission is to give streamers better tools to be creative and make money doing what they love," said Hartmann.
Using mtion interactive requires only a web browser and works with personal computer games. Although it does not require a virtual reality (VR) headset, Hartmann plans on releasing a VR component soon. 
Transforming an industry projected to be worth $4.26 billion by 2028 won't be easy for a solo founder. That is why Hartmann joined the Comcast NBCUniversal LIFT Labs Accelerator, powered by Techstars. The 12-week program helped Hartmann connect with executives across Comcast NBCUniversal who work in gaming, entertainment, and technology. It also offered business planning advice and strategies for gaining venture capital financing.
"The mentors were top-notch," said Hartmann. "This accelerator gave my team incredibly valuable connections and has positioned us to raise the money necessary to build out our vision."
Hitting the Right Notes
Hartmann began his journey as a startup technology founder from an unlikely place: a fine arts undergraduate program. After playing the contrabass throughout his childhood, Hartmann studied musical composition at Simon Fraser University in Canada. During the program, he became enamored with electroacoustic music and using technology to manipulate audio. It reminded him of the video games he loved, where the right musical tones dictated positive and negative reinforcement. 
Hartmann soon switched to a computer science major. He entered a Ph.D. program at the University of Waterloo and interned with Adobe and Microsoft, but he never lost his soft spot for music. In fact, he sees similarities between a musical artist's performance and a live streamer.
"Good musical composition sets you up and hijacks your brain into thinking you know how the melody is going — then something unexpected happens. That subversion of expectation is what people like. At mtion, we are trying to capture that in the video game streaming context where you don't know what's going to happen next, but you are engaged the whole time," he said.
Hartmann's plans for the future are ambitious. As Hartmann finishes the accelerator program, he hopes to build out his team, continue refining his product offering, and gain more traction with streamers. 
"In six months, I really want our platform to be used in a big way by the biggest names in streaming," said Hartmann. "I would be happy to see streamers getting a lot of value out of our virtual spaces and see fans and viewers engaging with them."
Ultimately, Hartmann sees his platform not only as the go-to place for streamers and their fans to connect — but as a place for people to hang out online at any time. 
"I can see this branching out to provide more functionality with our spaces used for meetings and connections when a streamer is offline," he said.


To read more inspiring startup stories and to stay connected to Comcast NBCUniversal LIFT Labs, sign up for our newsletter and follow us on Twitter.