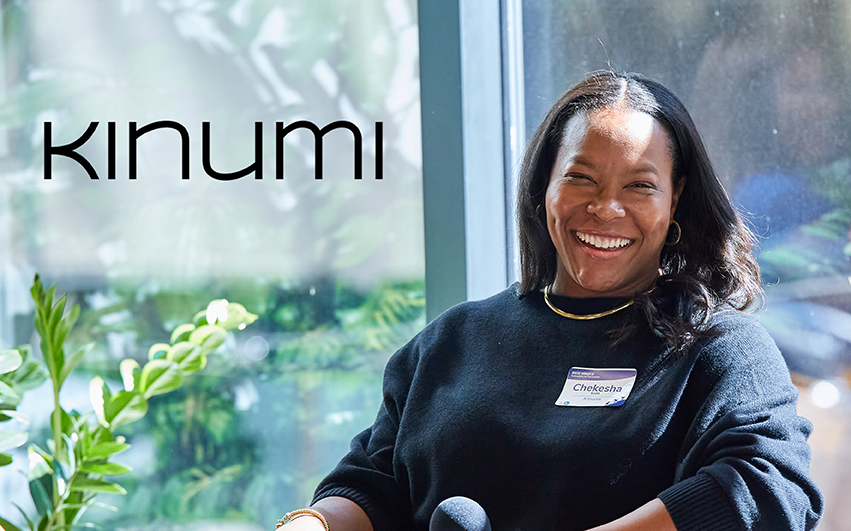 After the LIFToff CareTech Challenge, Kinumi received support from Comcast NBCUniversal LIFT Labs to empower seniors to maintain active lifestyles through its care concierge service.
After her father passed away, Chekesha Kidd realized her mother, who was in her 70s, had never lived alone before, and needed help with everything from navigating medical benefits to planning home repair projects. Plus, Mom was lonesome, missing someone to talk with each day.
"I became that go-to person. She was calling me six or seven times during the workday," said Kidd. "I tried to piece together all the things she needed, and I realized that active agers like her need a concierge service."
After extensive research, Kidd discovered that there are plenty of resources for childcare or seniors with chronic health conditions — but not much for a segment she calls "active agers." It led Kidd to launch Kinumi, a care concierge company enabling seniors to maintain healthy lifestyles while providing peace of mind for their loved ones. Kinumi's licensed therapists help seniors and caregivers schedule appointments and activities, research and find reputable service providers, coordinate services, plan meal deliveries, and much more.
Kinumi offers a digital dashboard where clients and caregivers can connect with their care team and see the status of their service requests. Seniors can also connect via traditional phone calls or use HIPAA-compliant text service.
Of course, Mom was the first client.
"Kinumi is like having an extended family member who is a trained and licensed clinical social worker ,and understands the medical industry — but can also find a reputable landscaper to cut your grass," said Kidd.
Kinumi takes a holistic approach to overall physical and mental health, with the goal of removing many of the stressors that cause people to age more rapidly.
"If their medical care is taken care of but they are stressed about finances or their house is in disarray because they are too tired to do a deep cleaning — those things impact them," said Kidd. "Talking with care coordinators also helps alleviate social isolation, which can impact physical health. We're trying to have a holistic approach to address that so we can have better outcomes over time."
Launching a startup represented a career shift for Kidd who earned an MBA, worked 10 years on Wall Street, and worked in corporate environments for healthcare companies and insurers.
"A startup is a completely different animal — but it's fun," said Kidd. "I had to make an assessment, troubleshoot, figure out customer drivers, and build everything out. It's rewarding work because caregiving wasn't just my issue. As I was chatting with friends, everyone was going through similar challenges."
---
LIFToff CareTech Challenge
Kinumi recently earned a $300,000 investment from Comcast NBCUniversal through the LIFToff CareTech Challenge, which launched to find enterprise-ready startups with platforms, technologies, and tools addressing the challenges of caregiving.
Comcast launched the LIFToff CareTech Challenge to find solutions for the complexity of caregiving, which is not just a problem for families, but also a problem for employers. Harvard Business School found that 80% of workers with caregiving responsibilities say it affects their productivity. Caregiving also affects talent retention, as 53% of caregivers quit a job because of the cost of paid help and 44% because they couldn't find trustworthy help. Kinumi helps alleviate that problem and gets people back into the workforce.
"This is impacting way too many women and women of color, specifically. The majority of family caregivers are women, and we're the ones getting displaced from the workforce," said Kidd, noting that 75% of caregivers are women. "I was lucky enough to be able to afford to care for my mom, but other women are being forced to not take promotions, increase absenteeism at work, or leave the workforce altogether."
Working with employers is a natural fit for Kinumi and Kidd is inspired by the number of employers that see caregiver support as an attractive benefit for their teams.
"Employers are starting to identify how caregiving impacts their workforce so it's becoming more of a conversation at a corporate level," said Kidd. "They are starting to understand that goes beyond paid family leave, it's a day-to-day constant stressor impacting employees. There is a positive momentum and trend here that will bode well for the industry."