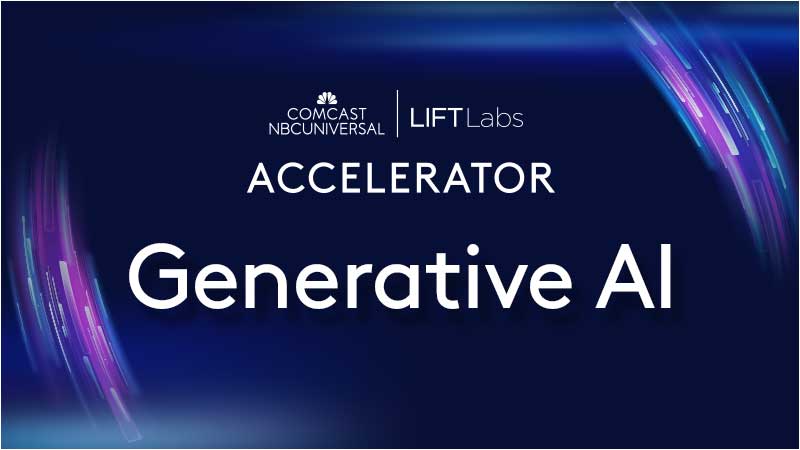 The new Comcast NBCUniversal LIFT Labs Accelerator will feature shorter, thematic programs with no upfront equity requirement. Applications are now open for the first accelerator focused on Generative AI through April 9. 
After five years of helping startups grow, we've learned some valuable lessons. 
We heard from our founders that they would benefit from more focused accelerators with growth plans tailored to their particular goals. Some founders — particularly those leading enterprise-ready startups – are at a stage where the upfront equity requirement of an accelerator no longer makes sense for their companies. And, startups want to learn how to partner with larger companies, like Comcast NBCUniversal. 
We took those lessons to heart and launched a series of theme-driven accelerator programs that are shorter, equity free, and focused on emerging trends. Applications are now open for our first program: Comcast NBCUniversal LIFT Labs Accelerator: Generative AI. Startups leveraging Generative AI to build next-generation technologies, products, and services are encouraged to apply through April 9. 
Our new accelerators will be anything but traditional, only requiring a six-week time commitment. The hybrid program kicks off on May 22 at the Comcast Technology Center in Philadelphia with a week of in-person events. That's followed by three virtual weeks, then two weeks back in Philly. Programming will be led by experts in enterprise sales, marketing, operations, public relations, and fundraising. Also, class sizes will be much smaller than typical accelerators with just six to eight startups accepted. The focused programming, condensed schedule, and smaller class size allow LIFT Labs to create a tailored tactical plan to help each company achieve their unique goals – not one-size-fits-all programming.
The accelerator's primary goal is to connect startups with Comcast NBCUniversal and develop partnerships. Much of the coursework is focused on how startups can engage with corporate enterprises, with LIFT Labs connecting participating founders with a network of mentors, and businesses to expose them to future opportunities, which may include developing proofs of concept and pilots and exploring potential longer-term partnerships. While there is no guarantee of an engagement in the end, more than 80% of our portfolio companies have secured pilot or commercial deals with Comcast, NBCUniversal, or Sky — including 100% of the companies in our 2022 accelerator.
We don't require equity to participate in our accelerator which allows both enterprise-ready and earlier stage startups to work side-by-side with teams at Comcast NBCUniversal to test their innovations and receive valuable feedback. Investments will be considered on a case-by-case basis, and part of the LIFT Labs network also includes exposure to venture capitalists. Since 2018, 54 LIFT Labs portfolio companies have raised more than $136 million in venture capital.
To help us to identify, recruit, and mentor startups, we are working with VentureFuel – an organization that helps corporations around the world innovate through startup collaborations. They have incredible knowledge, a terrific global network, and plenty of lessons for any founder.
With dedicated support from the LIFT Labs team, participating startup teams will have an internal champion to advocate and promote your business to decision makers during the program and beyond. LIFT Labs will also be a storyteller and help amplify company messages– from feature stories, social media, digital ad campaigns, and more.
If this all sounds impactful to your business — we encourage you to apply. While we're starting with Generative AI, we encourage founders working on other types of projects to still tell us about what they're building by filling out this form – it might be relevant to future accelerator themes. 
To apply or learn more, visit Comcast NBCUniversal LIFT Labs Accelerator: Generative AI.