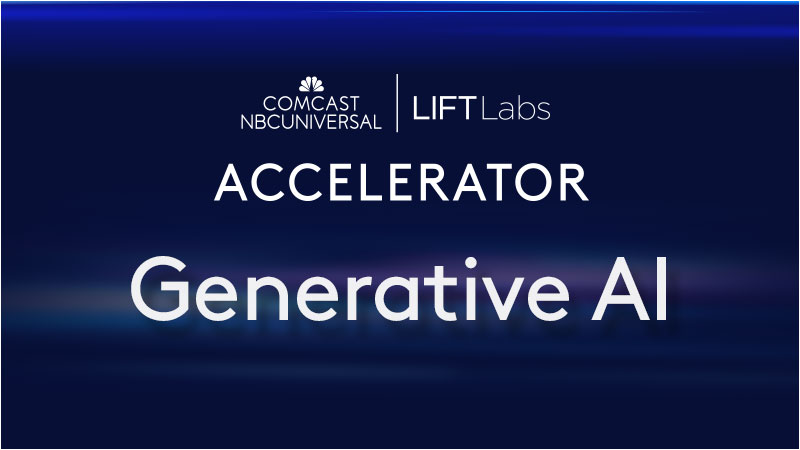 Over the next six weeks, eight companies will take part in a custom program designed to help foster new partnerships and gain key insights on the potential of Generative AI

Program begins today at the Comcast Technology Center in Philadelphia
Comcast today kicked off its new Comcast NBCUniversal LIFT Labs Accelerator: Generative AI, where the company will work with startups to gain insights on opportunities in Generative AI and explore working with the companies.
This six-week accelerator will feature in-person programming at the Comcast Technology Center in Philadelphia, as well as virtual sessions. Participating founders will explore opportunities to work with teams across Comcast and will also hear from leading investors and founders working in the Artificial Intelligence field; experts on enterprise business development; and media consultants who will help the founders shape their vision.
The startups participating in the program are at a variety of stages of fundraising, from pre-seed to Series B, and are addressing a range of use cases across a number of industries. [The participating companies will be announced at the conclusion of the program during the week of June 26, 2023.]
"The possibilities surrounding Generative AI and its applications are rapidly increasing as we continue to learn more about these emerging technologies," said Sam Schwartz, Chief Business Development Officer, Comcast. "Through the Comcast NBCUniversal LIFT Labs accelerator, we are able to collaborate with startups making use of Generative AI to learn more about its potential while also offering founders exposure to game-changing opportunities with industry leaders and businesses. The customized curriculum of the program fosters creativity and innovation, with a focus on establishing partnerships with enterprises."
The accelerator is led by Laura Plunkett and Luke Butler, Executive Directors of Startup Engagement, Comcast NBCUniversal, in partnership with VentureFuel – an organization that helps corporations around the world innovate through startup collaborations. It builds on Comcast's successful track record of working with startups. Since LIFT Labs launched its first accelerator in 2018, more than 80% of the portfolio companies have landed a proof of concept, pilot, or commercial deal with Comcast NBCUniversal.
Following the accelerator, alumni will continue to receive dedicated support from the LIFT Labs team to assist in pilot execution and to facilitate further connections to teams at Comcast, NBCUniversal and other enterprises in the LIFT Labs network.