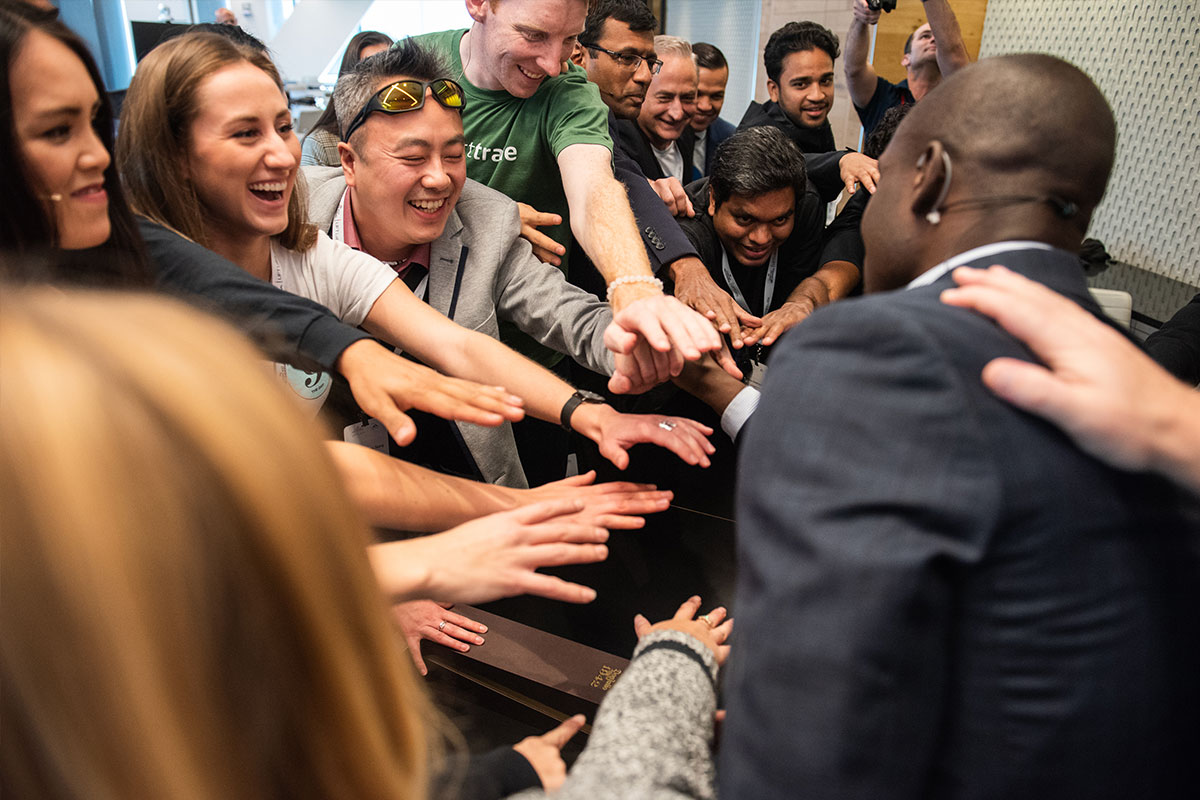 LIFT Labs Accelerator alumni explain how the program helped them secure partnerships with Comcast NBCUniversal and other benefits.
Joining a corporate accelerator is a big decision for any startup founder. For startup founders standing at the crossroads of decisions, the most pressing questions often revolve around the tangible value an accelerator brings to the table: Will it bolster my enterprise readiness? Is the program tailored to enterprise connections? What kind of post-program support can I anticipate?
We recently sat down with alumni of the 2023 Comcast NBCUniversal LIFT Labs Accelerator: Generative AI — a group leading the way in deep fake detection, video analytics, and interactive content. They have raised tens of millions in venture capital funding and amassed impressive customer bases. The founders explained that the program provided unique insight into enterprise sales and was laser-focused on partnerships with Comcast NBCUniversal, offering support beyond the end of the program.
But don't take our word for it, here are three main themes they identified.
Building Strategic Partnerships
The primary goal of our accelerator program is to explore partnerships between participating startups and Comcast NBCUniversal. From the outset we provide founders with access to decision-makers from Comcast NBCUniversal and our global network, including Xfinity, NBC, Universal Pictures, Universal Destinations and Experiences, and Sky.
"I thought we'd end up with maybe 20% business meetings and 80% deck feedback and speaker series. Instead, I quickly learned that we got accepted into the most immersive enterprise deal acceleration program we could have ever hoped for. By week two, we had already started the procurement process — and halfway through the program, we had already built an end-to-end pilot side-by-side with one of the main business units."

— Andrei Papancea,
CEO and Chief Product Office at NLX
"The exposure we had to executives within Comcast NBCUniversal has been unparalleled and especially to be able to actually meet with them in person has been just an amazing experience for us. That would have been incredibly difficult to navigate from the outside looking in."

— Cody Coleman,
Co-Founder and CEO of Coactive
"I have never seen an accelerator tailored towards helping you get pilots with enterprise clients. The value is just so well-defined. We have learned a lot about the business and how leaders in top organizations work with startups."

— Chun Jiang,
Co-Founder of Monterey AI
Learn with Targeted and Focused Programming
Our six-week program structure is deliberate, offering founders intensive learning and robust networking while leaving time for other obligations. LIFT Labs forgoes the traditional pitch-heavy approach, leaning into strategic partnerships and commercialization. It doesn't require companies to give up any equity in exchange for participation, and the program is hybrid — with founders spending part of their time at Comcast HQ in Philadelphia.
"One of the things I really liked about this program is the fact that it's six weeks in length, which gave my team time to work on various projects with Comcast and understand the different business units — but it wasn't all-consuming for months at a time."

— Ilya Gelfenbeyn,
Co-Founder & CEO Inworld AI
"Other accelerators we've done are very much about how we present ourselves outwardly. But this program is focused on the most important things for a company at our stage. It helped us build relationships within the Comcast organization. And for that, for us, that was incredibly important."

— Guy Gadney,
Co-Founder and CEO of Charisma.AI
Support Before, During, and After the Program
Navigating the intricacies of a large company like Comcast NBCUniversal can be challenging. Before, during, and even after the program, the LIFT Labs team aids in securing critical meetings and making meaningful connections.
"The LIFT Labs Accelerator is awesome because of the people involved and the platform they bring. There were only eight companies in our cohort but there were around 20 people supporting us and giving us exposure to every facet of the Comcast NBCUniversal family."

— Ben Colman,
the Co-founder and
CEO of Reality Defender
"LIFT Labs has been nothing short of amazing in helping us navigate the complexities of the organization while somehow squeezing in lots of fun networking events with the rest of the cohort companies. Best of all? We were told this is just the beginning of being part of the LIFT Labs family."

— Andrei Papancea,
CEO and Chief Product Office at NLX



To read more inspiring startup stories and to stay connected to Comcast NBCUniversal LIFT Labs, sign up for our newsletter and follow us on LinkedIn.