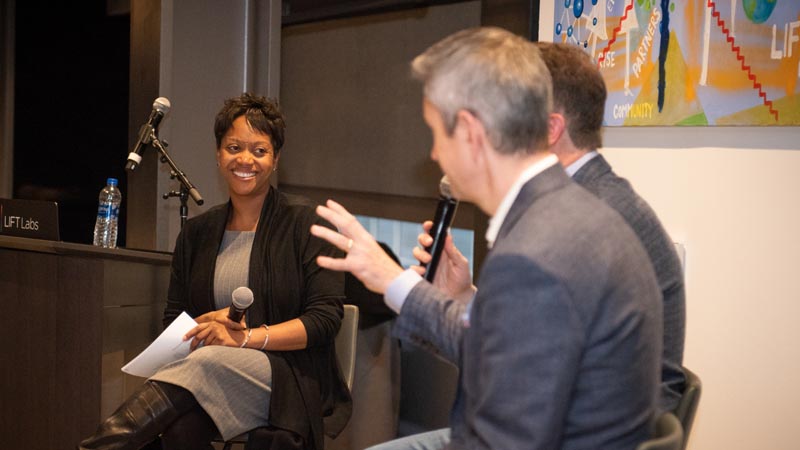 Ebony Lee loves working with startup founders. They have boundless energy and their excitement is contagious.

That's why the Senior Vice President of Strategic Development at Comcast served as a mentor in the 2018 Comcast NBCUniversal LIFT Labs Accelerator, powered by Techstars. During the program, Lee served as a mentor for alive5, which helps companies engage customers and accept payments on any digital messaging channel.
While she helped them make new contacts and sharpen their business model, Lee quickly realized that she — in fact — was gaining incredible value from the partnership, too. The alive5 team inspired her to think about problems with a fresh lens and their palpable energy gave her a serious boost.
Glenn Gutierrez, Co-Founder and COO of alive5, raved about working with Lee, saying "the hallmark of Ebony is that her word is gold" and that "she dreams with us and dared us to think bigger as a company."
We sat down with Lee to learn a bit more about her time as a mentor and why she recommends it to any Comcast NBCUniversal executive.
What value does mentorship through Comcast NBCUniversal LIFT Labs offer you professionally and personally?
It was both fun and rewarding. We all get so caught up in the day-to-day of our daily jobs, so mentorship is a nice way to step back and help someone else address a different problem set. It was incredible to learn from people who see the world differently and are approaching problems in new ways. As much as I felt like I was mentoring the companies, I learned a lot in the process as well. It's like exercising a muscle in a new way and getting stronger along the way.
Would you recommend mentorship to other Comcast NBCU executives?
100 percent. There are a lot of people in our company who have a lot to contribute and would get a lot of value out of it. Mentorship is another way to give back and learn from inspiring, devoted people who have big ideas and big ambitions. The spirit of experimentation, the spirit of perseverance, the spirit of risk taking — those are valuable lessons we can take from sitting side-by-side with a startup and mentoring them.
For many executives, time is a precious resource. How would you convince them that mentorship is actually worth their time?
It's completely worth their time – and you can make a huge impact no matter how much time you have. Sometimes it's spending an hour giving a company real-time feedback on their product. Sometimes it's spending an afternoon listening to their pitches and providing some tips. It can also be spending an hour per week learning their business and helping them gain traction. There are so many ways you can provide mentorship and get involved. There's a model that can work for everyone depending on how much time you have to give.
How does mentorship help Comcast NBCUniversal overall?
Comcast is built on a foundation of entrepreneurialism. LIFT Labs serves as a reminder that we too began as a small startup a long time ago. LIFT Labs helps reinvigorate that entrepreneurial spirit and remind people of the core foundation where this all started. I think that reminder is really important because the pace of innovation is accelerating and we as a company have to remain nimble and responsive to the changing landscape around us. Sitting alongside and learning from startups can pay huge dividends.
What do you think of the alive5 team?
They've identified a real need and they're building a real product. Companies big and small are not always meeting customers on the platforms they use every day — whether that's text, chat, a website, or Facebook messenger. Part of their special sauce is that they've not only made it easy to communicate through those channels, but they've made an easy mechanism for payments through those channels — removing friction and making transactions simple. On a personal level, they're just hard working, easy going guys who don't take themselves too seriously. They have this sense of humility and ambition at the same time. That's rare and so refreshing to see.
How did you help them make connections and test their business models?
They made it easy on me because they had the focus, determination and clarity to know what they wanted to accomplish. For example, they wanted to figure out if their technology would be helpful to small- and medium-sized businesses. Well, we have a team in Comcast Business, who serves small- and medium-sized businesses. Let's go talk to the person who runs sales and marketing and test whether their customers would get value from this product. The alive5 team also had a hypothesis that their product could solve problems inside large arenas or venues and that they could scale more quickly in that channel. So why not find the people who own multiple arenas and multiple venues to test that hypothesis? So, I helped facilitate a relationship with Spectra Venue Management which manages hundreds of venues throughout North America. I'm proud to say that alive5 is now working with Spectra to pilot their messaging and concierge services.
Do you miss them now that the accelerator is finished?
We definitely miss them. They're part of the Comcast family now. I'm super excited about their future potential. And I'm looking forward to the day I can say "I knew them when…" because I know they will be successful in whatever they put their minds to.