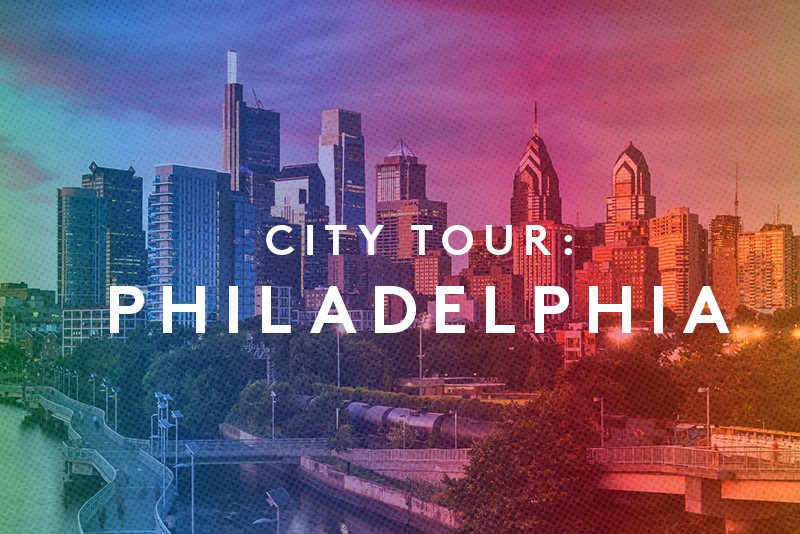 ---
The LIFT Labs City Tour is a multi-city event featuring discussions with more than 200 founders, funders, and startup leaders.
---
During a virtual visit with Philadelphia founders, we discussed the city's collaborative ecosystem and how its startups are poised for strategic partnerships with corporations. When COVID-19 lockdowns began, the Philadelphia startup ecosystem did what it always does — worked together. Happy hours turned into virtual gatherings. Founders huddled with boards of directors to reshape strategies. Funders dug deeper to keep promising businesses afloat.
Jason Bannon saw it first hand. The Vice President of Marketing & Communications at venture development organization and early stage investor Ben Franklin Technology Partners watched in awe as startups worked with the greater business community to minimize potential damage from the pandemic.
"Every one of the community builders — from startup-focused organizations to the Chambers of Commerce, to regional governments, worked together to figure out what everyone needed. The surge of collaboration was remarkable and beautiful," Bannon recalled. "If we can keep even one-tenth of that sustained, we can go so much farther in the months and years ahead."
Bannon shared his thoughts during the LIFT Labs City Tour, a virtual event featuring founders, investors, and leaders from Philadelphia. The family atmosphere of the meet-up was hardly a surprise to the LIFT Labs team. Philly is our hometown, and we were excited to check in with the community to find new startups to watch and understand their unique challenges. 
» Here are some takeaways from our conversation:
Philly's Startup Ecosystem 
It's collaborative. Pre-pandemic, Philadelphia's business community members were known for being gracious with their time. Ask someone for coffee, and they'd probably say yes. 
"We have an amazing sense of community here," said Isabelle Kent, president of the networking and community building organization Philly Startup Leaders. "Philadelphia is incredibly accessible when it comes to thought partnership, new information, introductions — whatever you need to get to the next level."
It's competitive. With limited venture capital funds, founders may think they are competing for the same investment dollars. Bannon hopes that fades as founders realize that a rising tide truly does lift all boats.
"Everyone thinks they are competing for the same dollar, but we need to build on the dollars that are here," said Bannon.
Convenient Location. Philly's location is a big plus. Chris Paterno launched a startup called HEARD, which automates advertising for the music industry. That means he often travels to New York, which is just a short train ride away. 
"Philly is really close to New York and D.C.," he said. "It is a great affordable place with good access to decision-makers," said Paterno. 
Jared Cannon, Founder and CEO of to-go meal startup Simply Good Jars, agrees. 
"Philly sits in the middle of the East Coast, which makes it a great distribution radius for our business. It's cheaper than New York and a great location to have access to a large geographic target market," he said. "Also, Philly is so small and intertwined. It's got the big city feel, but behind the scenes, everybody knows each other."
Family Atmosphere. Philly's startup community pride is particularly palpable. They celebrate big wins and love when new people join in.
"Once you're in, you're in forever," said Bannon. "Nobody is going to let you go. The moment you suggest you don't want to be in this community or you're giving up on entrepreneurship, people will say, 'You're not giving up!' It's infectious."
What Philly Needs 
Venture Capital Funding. This is the city's most significant need. In 2020, Philly area companies raised $1.8 billion across 221 VC deals — the region's second-highest annual deal value and third-highest deal count despite COVID-19's economic impact. Still, the founders and funders say that the startup community needs far more venture funding.
Cannon said it is "challenging to get support to grow a venture-backed business here in the city. Philly has all the pieces except access to sophisticated capital and value-add investors at a degree like New York, San Francisco and Silicon Valley." He recently secured investment someplace else — the popular TV Show Shark Tank. 
Kent explained that better storytelling could lead to more startup funding.
"We need to get more access to funding in Philadelphia, whether that's local funding or beyond. We need to help our startups understand how to tell their stories better," said Kent. "Philly has so much to brag about, and we've had so many successes in the region, but sometimes we're too humble. There is an opportunity for startups in the city as a whole to brag on the national level, and that will naturally start attracting all those great resources from outside."
More Corporate Partnerships. Many Philly founders agreed that partnerships or pilot deals with the region's major corporations could take startups to the next level. Paritosh Gupta, co-founder of AI-powered speech coach Orai (a LIFT Labs accelerator company) and coding startup CopyCat, said corporate partners are invaluable. 
"Sometimes it's really hard if you are an introvert or don't know the right people in Philly to secure your initial set of customers and get the feedback you need to get product-market fit," said Gupta. "At Orai, we were able to connect with large teams at Comcast, and that helped us refine our initial product very quickly. If you could do that across other Philly startups, that would be useful — especially for the B2B companies."
Tiffanie Stanard is solving the partnership problem with Stimulus. The startup pairs corporations with potential vendors and suppliers, diversifying supply chains and giving smaller, lesser-known companies a chance at winning deals. 
"Philadelphia has so many amazing businesses, but such a small number are getting contracts and opportunities," said Stanard. "It's time to change that."
Nicodemus Madehdou, CEO and founder of entertainment company JumpButton Studio, says that it's essential for founders to understand how to partner with bigger companies because it's challenging to break in as a vendor.
"A lot of companies already have the people they connect with daily. How do you enter that door and influence or change the organizations they partner with on certain projects?" said Madehdou. "That's an area that needs focus to improve to promote more inclusivity."
---
Did we miss anything? We know it's impossible to learn everything about a particular startup community from just one event. If you'd like to add any attributes or challenges — or tell us about startups doing incredible things, drop us a line. We'd love to hear from you.