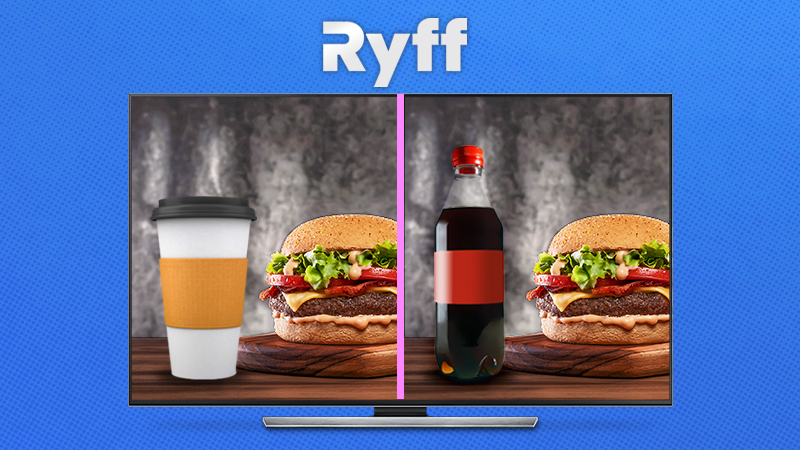 Ryff, the recent winner of the LIFToff VideoAI Challenge, adds virtual product placements to TV shows and films.
One of the earliest cases of product placement came in the 1919 film The Garage starring Fatty Arbuckle and Buster Keaton. Throughout the film, viewers could see logos for gasoline and motor oil companies popular at the time.
There's no question product placement has evolved considerably since then, with digital product placement at the forefront of the next evolution of the $23 billion business — and Los Angeles startup Ryff is leading the transformation.
Ryff adds virtual product placements inside films and TV shows that appear natural. Rather than physical products placed on set before filming, the products are added digitally afterward — and look like they'd been there all along. Ryff uses artificial intelligence to analyze the speech and context in a piece of content to ensure that the placements feel authentic to each scene.
The startup has worked with brands like Coca-Cola, General Mills, and Intel. For example, Ryff added Coca-Cola banners and bottles of Cherry Vanilla Coke to footage of North Carolina State celebrating their improbable 1983 NCAA men's basketball championship.
Garry Edwards, Chief Revenue Officer at Ryff says the startup adds a new revenue stream for content creators, broadcasters, and advertisers.
"It is an ecosystem where everybody wins," said Edwards. "Advertisers reach new audiences. Content owners and broadcasters have a new way to monetize their content and can do something different than traditional advertising."
Ryff recently won the LIFToff VideoAI Challenge at Comcast NBCUniversal LIFT Labs. The challenge sought out enterprise-ready companies delivering next-generation video experiences. LIFToff allowed Ryff to pitch various teams across Comcast NBCUniversal and ultimately gain a trial program with Comcast Technology Solutions.
"The challenge galvanized our team because it felt in our wheelhouse and something we could all lean into," said Edwards.
Peter Gibson, Executive Director, Product at Comcast Technology Solutions, said Ryff not only had the "wow factor" of seamless technology but also made significant progress on rights integration and business policy modeling.
"We can get a lot of value from working with Ryff," said Gibson. "They have been heads down over the past few years building business logic into their APIs to allow brands to buy and sell placement slots, and they've developed some intriguing rendering tech around it to make it look seamless, particularly on live events where you can't prepare beforehand."
By leveraging AI to understand every contextual frame of content it allows for virtual brand placement to enable new advertising opportunities targeted to the consumer.
Laura Plunkett, Executive Director of Startup Engagement at Comcast NBCUniversal, added that Ryff's knowledgeable leadership team, mature product, and business model stood out.
"Ryff's technology is very compelling with an innovative business model that creates tremendous opportunities for value creation and capture," said Plunkett. "In traditional product placement, a brand is simply inserted into content, and it usually just stops there. Ryff creates options around seasonality, audience specificity, and even macro volatility."
International Releases, Classic Content, and More
Many Ryff team members spent years designing video games, meaning they crafted entire digital worlds from scratch. In comparison, digital product placements are an easier tech challenge.
"We're computer rendering guys," said Edwards. "We can do this at scale. We're used to building gaming worlds where thousands of people are playing simultaneously but are having a unique experience."
That team is now laser-focused on helping brands, content owners, and broadcasters get more from each product placement opportunity. And the applications are plentiful. For international releases, Ryff can swap in country-specific products rather than showing American products unavailable in those regions. The company can also backfill product placements on classic content.
"For a longstanding brand like Remy Martin or Coca-Cola, we can make you an authentic bottle from the 1960s and place it in film from that era," said Edwards.
In the future, Ryff is aiming to launch hyper-targeted advertising where various audiences see different product placements.
"We can work with broadcasters or platforms to understand who is watching — even down to brand safety concerns," said Edwards. "For example, if we know a kid under 21 is watching, they won't be served an alcohol reference. They'll get chocolate milk or a bottle of water instead."
To learn more about Comcast Technology Solutions, click here.


To read more inspiring startup stories and to stay connected to Comcast NBCUniversal LIFT Labs, sign up for our newsletter and follow us on Twitter.